News story
Coffee van provides perk to community
Sellafield workers can now support their local community on the way into work, through the simple act of buying a coffee.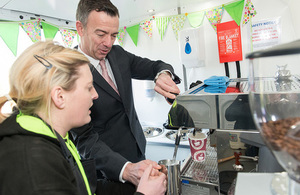 Calderwood House homeless hostel in Egremont has launched a new coffee van business, and is currently operating a pilot scheme to trade each weekday morning from a car park close to the Sellafield site.
Rachel Holliday, Director and Founder of Calderwood House said:
Since opening Calderwood House 2 years ago we have received overwhelming support from West Cumbria, but we can't rely on handouts, we need a longer-term plan.

Not only will the coffee van generate an income for Calderwood House, it provides an opportunity for our residents to gain work experience, learn new skills and develop the confidence to get back into work. It is a win-win.
The local hostel won a grant from the 'Fresh Ideas' competition last year and decided to invest it in a business venture that will help sustain the hostel and provide work experience for their residents.
For a trial period, they will position the van at the Yottenfews car park, close to Sellafield, between the hours of 6am and 9.30am, offering a hot drink to workers who use the park and ride service onto the nuclear site.
Rachel added:
With so many potential customers in one place, we thought Sellafield would be an ideal area to start, so we approached the company with our idea and they have been extremely supportive.
Martin Chown, Supply Chain Director from Sellafield Ltd said:
I would like to congratulate those at Calderwood House on the way they have approached this new business venture. They identified that the Sellafield workforce could provide them with a large customer base, recognised the practicalities involved in trading close to the site and approached us to help make their vision a reality.

We have thousands of employees with a desire to have a positive impact on the community, and Calderwood House is allowing them to do just that, through the simple act of buying a coffee.
Mayor for Copeland Mike Starkie said:
It is marvellous people are showing creative thinking and entrepreneurial spirit to support Calderwood House.

It takes innovative thinking to keep projects like Calderwood House going. I wish them every success.
Calderwood House supported more than 60 local homeless people last year. It provides temporary accommodation as well as giving residents training, new skills and the support needed to obtain a job and their own home.
Published 20 March 2017