Coalition Ministers deliver Millennium Development Goals briefing
Overseas diplomats hear UK priorities and ambitions ahead of Millennium Development Goals summit.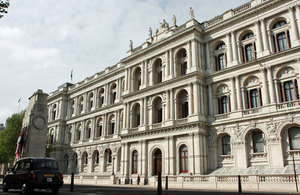 Senior diplomats from across the world attended a briefing at the Foreign and Commonwealth Office about the United Nations Millennium Development Goals (MDG) Summit.
Attendees were addressed by Deputy Prime Minister, Nick Clegg, Secretary of State for International Development, Andrew Mitchell and Foreign Office Minister for Global and Economic issues, Henry Bellingham.
At the briefing, Deputy Prime Minister, Nick Clegg said:
"Despite changing economic circumstances, we can't afford to abandon our promises because we still believe development is a moral, economic and social priority."
Whilst Minister Bellingham reiterated: "This government believes that the goals of poverty reduction, improving human rights and international development are as important as ever."
The event, which took place on 9 September, was designed to galvanise political momentum in the run up to the summit, and to provide an opportunity to set out the UK's ambitions. During the event the Ministers emphasised the importance the British coalition Government attaches to the MDGs. They highlighted the UK's desire for the summit to deliver a clear agenda setting out the path towards achieving the MDGs by 2015. They also spoke of the UK's intention to put women, girls and maternal health at the forefront of its efforts in line with the belief that empowerment of women is central to the delivery of the full range of MDGs.
The eight Millennium Development Goals range from halving extreme poverty to reducing maternal mortality, and combatting malaria. They form a blueprint agreed to by all of the world's countries and the world's leading development institutions.
The MDG Summit, due to take place in New York between the 20 and 22 September 2010, is designed to speed progress towards delivery of all MDGs by 2015.
Published 10 September 2010