World news story
Co-Founder of the PSV Initiative visits Burma
Angelina Jolie Pitt highlights sexual violence in conflict during her visit to Burma.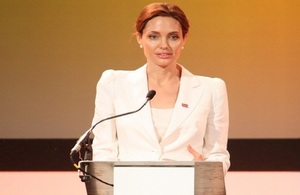 Co-Founder of the Preventing Sexual Violence Initiative Ms. Angelina Jolie Pitt visited Kachin today. She met INGOs, Civil Society Organisations and survivors of sexual violence, to highlight the vulnerability of women and girls living in conflict situations. And she met survivors of sexual violence, including a young displaced woman from a camp in Kachin State enduring her tenth year of sexual violence in the home.
Ms Jolie Pitt said:
This visit underlined the vulnerability of women and girls living in protracted conflict situations to sexual violence, trafficking, and other human rights violations.
It was moving and humbling to meet survivors of sexual violence in Kachin State. Organisations like the Women and Girl Centre in Myitkyina are doing everything in their power to help them. But there is an urgent need for more medical assistance and legal and psychosocial support for survivors, and for a strong legal framework to ensure all perpetrators of sexual violence are held accountable.
This visit was a first step. I look forward to working with women's groups here and to helping where I can to address the issues facing women's rights in this country, including through the Preventing Sexual Violence Initiative.
Earlier this week, Ms Jolie Pitt met members of the government, including President Thein Sein, Defence Minister Lieutenant General Wai Lwin and Parliamentary Speaker Shwe Mann, to encourage legal and practical steps to end impunity for sexual violence and help survivors. She pressed for the inclusion of language on the prevention of sexual violence in conflict in the draft Preventing Violence Against Women Law currently going through parliament. Also, she raised the importance of the rule of law and for perpetrators of rape to be brought to justice to show accountability and transparency.
The British Ambassador, Andrew Patrick, said:
Preventing sexual violence in conflict and supporting the rights of women and girls remains a high priority for the UK here in Burma and globally. I am pleased that the UK government, through our Department for International Development, is supporting such essential facilities. We are looking to expand the programme of Women and Girl Centre's with UNFPA into other parts of Burma.
This follows the recent visit by UK Foreign and Commonwealth Office Minister Hugo Swire, who launched the International Protocol on the Documentation and Investigation of Sexual Violence in Conflict in Burma. The Protocol is a set of standards, drafted by over 200 experts from around the world, on the documentation of sexual violence as a crime under international law. It is an important tool to effectively and protectively document sexual violence, support survivors, and pursue accountability for these crimes.
Background on PSVI:
In recent years there has been growing international recognition of the critical need to address sexual violence in conflict. Through a series of UN Security Council Resolutions (UNSCRs) the United Nations has repeatedly condemned and called for the end to all forms of sexual violence against women and children. States, the UN, NGOs, the International Criminal Court, military organisations, and medical, social and legal practitioners have all made significant advances in prevention, protection and survivor support. But despite these efforts, sexual violence in armed conflict continues to occur, often reaching appalling and frequent levels of brutality.
The PSVI was co-founded in 2012 by Ms Jolie Pitt and the-then UK Foreign Secretary The Rt. Hon William Hague MP. The Initiative is working to tackle the culture of impunity for sexual violence committed in conflict with one of deterrence - by increasing the number of perpetrators brought to justice both internationally and nationally; by strengthening international efforts and co-ordination to prevent and respond to sexual violence; and by supporting states to build their national capacity.
The then UK Foreign Secretary William Hague and Angelina Jolie Pitt co-chaired the Global Summit to End Sexual Violence in Conflict on 10-13 June 2014 in London, with 1,700 delegates and 123 country delegations including 79 Ministers. The Summit agreed practical steps to tackle impunity for sexual violence, and to begin to change global attitudes to these crimes. Burma attended the conference and signed up to the Declaration to end sexual violence in conflict.
In February 2015 William Hague and Angelina Jolie Pitt launched a new Centre for Women, Peace and Security at the London School of Economics. The centre is the UK's first academic centre on Women, Peace and Security and will focus on the empowerment of women and the ending of impunity for sexual violence in conflict.
In May 2015 the Prime Minister appointed Baroness Anelay, FCO Minister of State, to the position of Prime Minister's Special Representative on preventing Sexual Violence in Conflict. Baroness Anelay's appointment demonstrates the UK's continuing commitment to leading the global fight to end the scourge of sexual violence in conflict once and for all.
The Women and Girl Centres in Myitkyina were launched in January 2014 by UNFPA through DFID funding. Women and girls have access to psychosocial support, case management, and referrals to other relevant agencies.
Published 31 July 2015