Press release
CMA welcomes NAO report
The CMA has today welcomed the National Audit Office (NAO) report on 'The UK Competition Regime.'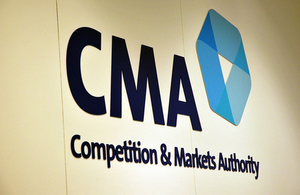 The report has found that the Competition and Markets Authority (CMA) has made significant progress in improving how the competition regime works since the NAO's last review in 2010. It praises the CMA's innovative and efficient approach to mergers, its strengthened processes and high success rates in the courts.
The report also highlights the work it has done so far in releasing firms from undertakings or remedies in 51 out of 76 'legacy' cases, the better co-ordination with other competition regulators, the steps it takes to preserve its independence and that it exceeded its target of £10 of benefits to consumers for every £1 spent in its first year.
CMA Chief Executive, Alex Chisholm, said:
This report is good news for the CMA and reflects the hard work we have been putting in to build an efficient new organisation, as we aim to become one of the leading competition agencies in the world.

However, we recognise there is still much more to be done. We are committed to increasing both the number and the speed of our competition enforcement cases, while maintaining our emphasis on fairness and rigour. This is reflected in our 2 latest competition investigations being completed in 12 and 18 months, as well as the recent opening of 5 new cases and issuing of statements of objections in 2 other investigations.

Elsewhere we are delivering a multi-sector compliance programme across the regions, to raise awareness amongst small and medium-sized enterprises (SMEs) of competition law and of our role in enforcing it.

The findings of this report, supported by the priorities we set out in the annual plan, will help our drive to bring benefits to consumers and industry and support economic growth.
Notes for editors
See the CMA's draft annual plan and the NAO's report for more information.
The CMA is the UK's primary competition and consumer authority. It is an independent non-ministerial government department with responsibility for carrying out investigations into mergers, markets and the regulated industries and enforcing competition and consumer law.
For more information on the CMA see our homepage or follow us on Twitter @CMAgovuk, Flickr and LinkedIn.
Media enquiries should be directed to Kasia Reardon (kasia.reardon@cma.gsi.gov.uk, 020 3738 6901).
Published 5 February 2016