Press release
CMA sets out priorities for 2016/17
The CMA has published its priorities for 2016/17 which focus on delivering real benefits for consumers, businesses and the UK economy.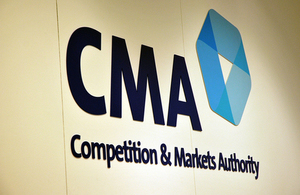 The Competition and Markets Authority (CMA) is entering its third year and the annual plan commits the authority to helping markets work well through the enforcement of competition and consumer law, undertaking market studies and investigations and regulatory appeals, operating merger control, and via partnership and advocacy.
The CMA enters 2016/17 with a substantial portfolio of ongoing work. It will be a year of finishing what it started, seeing through the cases it has underway and realising the full benefits of the new competition regime. In particular its energy market investigation is due to publish its final report in June 2016 and the final report from the banking investigation will follow in August.
The market study into legal services, which started in January 2016, is expected to publish its final report at the end of 2016 and further projects will be launched over the course of the year, including an analysis of price comparison websites.
The CMA will place an even greater emphasis on carrying out swift and effective enforcement of competition and consumer law, alongside highlighting to businesses how to comply with it. It enters the year with 8 consumer enforcement cases underway, 8 competition enforcement cases, 4 civil cartel cases and one criminal cartel case.
Alongside stepping up the scale, pace and impact of its enforcement, the CMA will use communications tools to raise awareness of the law, change behaviour, minimise the burden of complying (especially for smaller firms), and encourage complaints. The CMA will publicise the outcomes of enforcement cases to ensure that relevant businesses and consumers are aware of the implications for their own behaviour, and will also target sectors where intelligence reveals that compliance or understanding may be poor, aiming to increase awareness of the law and generate complaints that can be followed up.
Open and competitive markets help to deliver greater productivity and to drive economic growth, and so the CMA's work will continue to contribute to the wider UK economic and deregulatory agenda.
To minimise burdens on business and disruption to markets, in 2015/16 the CMA started a systematic review of existing remedies to remove measures that are no longer appropriate or may now be restricting or distorting competition. In the coming year that work will continue with further reviews of existing mergers or market remedies. Over the course of the first 2 years of this programme, the CMA expects to have initiated reviews of around 100 sets of remedies, most of the merger remedies over 10 years old that it inherited from its predecessors.
The CMA will also continue to operate an efficient and effective mergers regime, building on its work to improve the efficiency of its end-to-end processes, and enters the year with a substantial portfolio of ongoing phase 1 merger reviews as well as 5 phase 2 mergers. And it will conduct regulatory appeals as required, concluding the existing price control appeals in the telecoms sector.
The CMA remains an expert advocate for competition with policymakers and regulators in the UK and internationally. In the past year it has used its influence in sectors across the UK economy, from higher education to energy, and from passenger rail services to local transport schemes including buses and private hire vehicles. This role remains crucial in the coming year.
The CMA will also continue its international work including as current President of the International Consumer Protection and Enforcement Network.
David Currie, CMA Chairman, said:
We have a great deal to deliver for consumers and the economy in the coming year. We will conclude and implement the findings of our large scale energy and banking investigations, and reach a view on whether legal services are working well for their users.

We will redouble our efforts to carry out our work with ever greater efficiency without compromising our standards of rigour and fairness. This will include finding new ways to achieve the outcomes we need with leaner project teams and lower costs.

Our ambition is to be consistently one of the leading competition and consumer agencies in the world, and we are confident that our work in 2016/17 will enable us to meet that ambition.
Notes for editors
The CMA is the UK's primary competition and consumer authority. It is an independent non-ministerial government department with responsibility for carrying out investigations into mergers, markets and the regulated industries and enforcing competition and consumer law. For more information on the CMA see our homepage or follow us on Twitter @CMAgovuk, Flickr and LinkedIn.
Enquiries should be directed to Rory Taylor (rory.taylor@cma.gsi.gov.uk, 020 3738 6798) or Simon Belgard (simon.belgard@cma.gsi.gov.uk, 020 3738 6472).
Published 15 March 2016