News story
CMA opens new survey for users on GOV.UK
The Competition and Markets Authority today launched a short survey to get feedback from all users about our web pages on GOV.UK.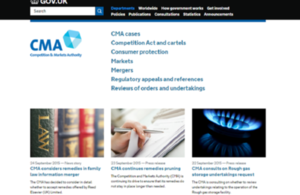 This follows an original survey carried out in summer 2014. We used the views we received then to make several changes to the CMA's web pages, including bringing over archived Competition Commission and Office of Fair Trading cases, making our links clearer on the CMA homepage and setting up case alerts.
Once again, we welcome feedback about your experience of using www.gov.uk/cma and our case directory. The information you provide will help us to make our GOV.UK web pages as user friendly as possible.
The survey should take around 3 minutes to complete. It closes at midnight on Wednesday 8 October.
Published 28 September 2015