Press release
CMA appoints two new Directors
The CMA has today appointed its new Director of Technology and Business Services and a new Legal Director.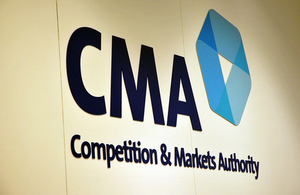 Phil Urquhart will start on 11 January as the new Director of Technology and Business Services. Currently the Assistant Director of ICT and Chief Technology Officer at the Maritime & Coastguard Agency, Phil will report into Erik Wilson, Executive Director of Corporate Services. Phil's key responsibilities will include leading the Technology and Business Services teams to deliver efficient and effective IT services to the Competition and Markets Authority (CMA). As Head of Profession, Phil will also lead and develop a professional community which builds both the individual and the group's capability.
Ronan Flanagan will be joining shortly afterwards as a new Legal Director on 8 February. Currently a Managing Associate at law firm Linklaters, Ronan will jointly report into senior lawyers Andrea Gomes da Silva and Claudia Berg. His key responsibilities will include contributing to the quality and robustness of the CMA's decisions across the full range of its work, such as in competition law enforcement, merger control and the markets regime.
Alex Chisholm, CMA Chief Executive, said:
The new year will see these 2 key new starters coming on board at the CMA. Both bring strong external experience to their roles and I look forward to the contribution they will make to the success of the CMA in 2016 and beyond.
Notes for editors
Phil replaces Mario Tsavellas who left the CMA earlier this year. Prior to his near 3 year stint at the Maritime & Coastguard Agency, Phil also worked in ICT at the Cabinet Office, Treasury and National School of Government.
Ronan's post is new. He has practised competition law for the past 8 years and joins from Linklaters where he was a Managing Associate in the London Competition Group since 2012. He previously worked with the Competition Group at Latham & Watkins.
The CMA is the UK's primary competition and consumer authority. It is an independent non-ministerial government department with responsibility for carrying out investigations into mergers, markets and the regulated industries and enforcing competition and consumer law.
Press enquiries should be directed to Kasia Reardon (kasia.reardon@cma.gsi.gov.uk, 020 3738 6901).
Published 14 December 2015