News story
CMA appoints Stefan Hunt to top digital role
The CMA has today announced the appointment of Stefan Hunt to head up its new data unit.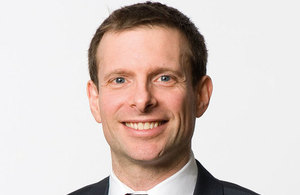 As part of his role as Chief Data and Digital Insights Officer, Stefan will help develop and deliver an effective data and digital insight strategy to allow the Competition and Markets Authority (CMA) to better understand the impact that data, machine learning and other algorithms have on markets and people.
Data is becoming ever more central to business models and competition issues. There is also growing debate about the market power of major internet platforms due to the large amounts of data that they hold. Stefan will manage a team of around 10 people – from across several disciplines – that will build on the CMA's existing work in this area. The unit, which was announced as part of the CMA's 2017-18 annual plan, will focus on:
understanding how firms use data and algorithms in their business models and what implications this might have for competition and consumers
developing how the CMA obtains and uses data in its ongoing work
engaging with the tech business, academic research and government data communities in the UK and internationally
CMA Chief Executive Andrea Coscelli said:
Data, machine learning and other algorithms are now playing an increasingly important role for businesses. We are delighted to have Stefan join us here at the CMA to help us further develop our understanding of how these issues affect markets and consumers, and to ensure that we are fully prepared to respond to the fresh challenges and opportunities they present.
Stefan comes to the CMA from the Financial Conduct Authority (FCA) where, as founder and head of the Behavioural Economics and Data Science Unit, he led the organisation's activity in these fields and designed several pioneering economic analyses. He has a PhD in economics from Harvard University and is an Honorary Professor at Nottingham University.
He already has significant knowledge of the CMA's work due to his role as co-chair of the UK Competition Network project on enhancing the impact of consumer remedies. He has also been vice-chair of the G20-OECD taskforce on financial consumer protection.
Published 18 May 2018