Press release
CMA announces senior appointments
The CMA has today announced the appointment of 3 new Project Directors.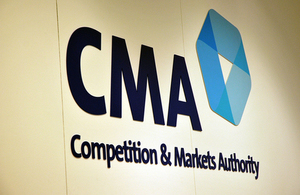 Following an internal promotion, Lucilia Falsarella Pereira, previously an Assistant Director at the CMA, has already started in her new position, as has Fred Houwen, who joined the Competition and Markets Authority (CMA) from Reckitt Benckiser on 3 January 2017.
Tim Geer will join from NHS Improvement on 30 January.
A further appointment will be announced in the near future.
Daniel Gordon, CMA Senior Director, Markets, said:
Lucilia and Fred will initially focus on our enforcement work, while, at first, we expect Tim to work on mergers and market cases.

We had a very competitive field for these important positions and these very high-calibre recruits bring a wealth of experience and expertise which, I am sure, will increase the impact and effectiveness of the CMA and its work. I am delighted to congratulate Lucilia on her well-deserved promotion and to welcome Tim and Fred.
Notes for editors
The CMA is the UK's primary competition and consumer authority. It is an independent non-ministerial government department with responsibility for carrying out investigations into mergers, markets and the regulated industries and enforcing competition and consumer law. For CMA updates, follow us on Twitter @CMAgovuk, Flickr, LinkedIn and Facebook.

Fred Houwen joins from Reckitt Benckiser, where he held a number of senior roles, most recently Group Compliance Officer and Deputy General Counsel for Group Legal Affairs and Compliance. He started his career at Clifford Chance, where he qualified into the competition department and gained experience in both London and Brussels. He subsequently joined the Office of Fair Trading's (OFT) Legal Division, and spent time on secondment to the mergers branch, before gaining further experience of a range of UK and European competition law matters at Lovells and Reed Smith.

Lucília Falsarella Pereira was previously Assistant Director – Cartel Enforcement at the CMA. In this role, she led civil cartel investigations and was heavily involved in the CMA's policy work on cartels and leniency. Lucília spent 2 and a half years seconded to HM Treasury, advising on competition law and policy during the financial crisis and its aftermath. Lucília joined from the OFT, where she dealt with a wide range of matters, including leading on a markets project and working in phase 1 mergers. Prior to the OFT, Lucília worked at the European Commission (DG Competition), and as a lawyer in private practice in Brazil.

Tim Geer is currently at NHS Improvement leading a team within its competition functions. Previous to that he was at the CMA and the OFT where he was an Assistant Director in the mergers team. He has extensive experience of the UK merger control regime across a multitude of industry sectors and in the two phases of merger review. Tim has also held posts at HM Treasury and the Australian Productivity Commission.

Enquiries should be directed to Simon Belgard (simon.belgard@cma.gsi.gov.uk, 020 3738 6472).
Published 5 January 2017