Press release
CMA announces new Director of RBFA
The CMA has today appointed Susannah Meeke as its new Director of Remedies, Business and Financial Analysis (RBFA).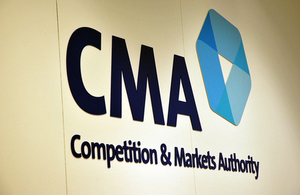 Susannah, currently an Assistant Director in the RBFA Group, takes up her post in December. Her role involves leading the development of remedies and financial analysis on major Competition and Markets Authority (CMA) projects including the energy and private healthcare market investigations. She will report into Adam Land, Senior Director of RBFA.
The RBFA Group is the CMA's centre of excellence for all aspects of remedies work and for providing commercial and financial expertise across the spectrum of the CMA's casework, including market and mergers cases, competition and consumer enforcement and regulatory reviews. The RBFA Group is also leading a wide ranging series of reviews into previous merger, market and monopolies remedies.
Adam Land said:
I am delighted to appoint Susannah to this role. That Susannah was able to prevail against such a strong field for this publicly advertised role, reflects well on her personal capability and on the important contributions she has made during her time to date at the CMA. It also highlights the career development opportunities available to CMA staff.

Susannah will be an important member of my leadership team as we further develop RBFA as a key profession in the CMA, adding value across the whole organisation.
Notes for editors
Susannah replaces Lucy Beverley, who has taken up a role with the Financial Conduct Authority.
Susannah joined the Competition Commission (CC) in April 2012 and has worked on a range of phase 2 market inquiries since then, as well as the IBA-Alliance and Akzo-Metlac mergers. Prior to joining the CC, she worked in Deloitte's economic consulting practice, advising on access pricing issues in the telecom sector. Susannah started her career in the corporate finance and recovery team at PricewaterhouseCoopers, where she advised clients on a wide range of transactions, including leveraged buy-outs and debt restructurings.
The CMA is the UK's primary competition and consumer authority. It is an independent non-ministerial government department with responsibility for carrying out investigations into mergers, markets and the regulated industries and enforcing competition and consumer law.
For more information on the CMA see our homepage or follow us on Twitter @CMAgovuk, Flickr and LinkedIn.
Enquiries should be directed to Kasia Reardon (kasia.reardon@cma.gsi.gov.uk, 0203 738 6901).
Published 26 November 2015