Press release
CMA announces four appointments
The Competition and Markets Authority today made 4 new appointments to its leadership team.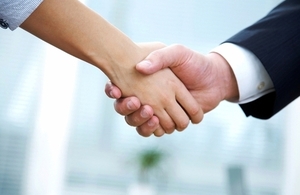 Rachel Merelie becomes Senior Director, Delivery and Sector Regulation, taking responsibility for the Sector Regulation Unit, alongside some of her existing Competition and Markets Authority (CMA) responsibilities, including Head of the Delivery Profession. Rachel takes on this role with immediate effect.
The CMA has also recruited 2 external candidates and made one internal promotion at director level:
Joining from Charles River Associates is Jenny Haydock, who starts as an Economics Director on 30 September. In her role she will give economic advice on the broad range of CMA work, covering enforcement through to markets, mergers and regulatory issues.

Will Hayter, currently at the UK Regulators Network and before that at Ofcom, starts as a Project Director on 2 December, and will focus on markets work.

Also starting as a Project Director is Bethan Watts, who has been promoted from her current role at the CMA. In her new position, starting immediately, Bethan will initially be working on antitrust cases.
Alex Chisholm, CMA Chief Executive, said:
These new appointments will further strengthen our leadership team and help us deliver our ambitious objectives. I am pleased that we have attracted two high calibre external candidates, as well as identifying and rewarding our own internal talent with two new and well deserved roles.
Notes for editors
Rachel Merelie will report to Andrea Coscelli, Executive Director of Markets and Mergers. Rachel has held a number of roles at the CMA, most recently Senior Director, Delivery and before that Group Director, Markets and Delivery. Previous to this she was the Senior Director, Inquiries at the Competition Commission from 2007, having joined the Competition Commission as an Inquiry Director in 2003. In her earlier career, Rachel managed business planning and strategy for Ernst & Young and the transition to Cap Gemini Ernst & Young, worked for Gemini Consulting as a management consultant and held a variety of roles in the electricity industry.
Jenny Haydock will report to Mike Walker, Chief Economic Adviser. Jenny was an economic consultant at Charles River Associates. Her work there covered a range of competition matters, including abuse of dominance allegations, restrictive agreements, follow-on damages estimation, and horizontal and non-horizontal mergers. She worked on matters before the UK authorities, regulators, and courts, as well as cases at the European Commission.
Will Hayter will report to Daniel Gordon, Senior Director, Markets. Previously, Will was appointed as the first Director at the UK Regulators Network when it was set up in 2014. Prior to this he was at Ofcom from 2005 where he spent 8 years in the competition policy team, doing a variety of projects across telecoms and broadcasting. Earlier in his career Will spent 5 years in strategy consulting.
Bethan Watts will report to Ann Pope, Senior Director, Antitrust. Bethan is currently Assistant Project Director at the CMA. She joined from the Office of Fair Trading where she worked from 2008 on a wide range of antitrust investigations, markets work and policy projects. Prior to this, Bethan worked as a private practice lawyer specialising in EU and UK competition law.
The CMA is the UK's primary competition and consumer authority. It is an independent non-ministerial government department with responsibility for carrying out investigations into mergers, markets and the regulated industries and enforcing competition and consumer law. From 1 April 2014 it took over the functions of the Competition Commission and the competition and certain consumer functions of the Office of Fair Trading, as amended by the Enterprise and Regulatory Reform Act 2013. For more information see the CMA's homepage on GOV.UK.
Enquiries should be directed to Kasia Reardon (kasia.reardon@cma.gsi.gov.uk, 0203 738 6901).
Published 17 September 2015