Press release
Clydesdale and Yorkshire Banks join UK Export Finance Bond Support Scheme
Clydesdale and Yorkshire Banks, part of the National Australia Bank Group, have joined the UK Export Finance Bond Support Scheme.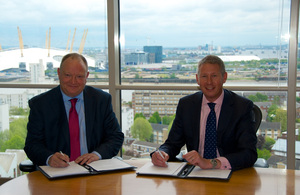 The Bond Support Scheme provides exporters with additional support when raising contract bonds related to exports and is part of a range of UK Export Finance's initiatives. These are designed to support British businesses who want to export and ensure they have access to the working capital essential for continued growth.
Paul Croucher, Head of Short-Term products at UK Export Finance said:
I am very pleased to welcome Clydesdale and Yorkshire Banks to the Bond Support Scheme. This opens up our product range to an even wider group of exporters and shows a real commitment on their part to support exporters throughout the UK.
John Brown, Head of International Trade Finance at Clydesdale and Yorkshire Banks, said:
The demand for the high quality products and services delivered by UK exporters continues to grow in both established and emerging markets. By joining the UK Export Finance Bond Support Scheme, Clydesdale and Yorkshire Banks will be able to lend additional support to new and existing customers; enabling them to grow overseas sales and, in turn, helping them boost their local economies through expansion and employment.
£450 million worth of export contracts for UK SME and mid-market companies
The partial guarantee allows participating banks to issue bonds even if they lack the risk appetite for the full amount. To date the scheme has given support to over 35 businesses in over 90 export deals. 69% of companies already exporting have received a return on investment from new product development thanks to doing business overseas and 26% of established exporters have a turnover between £500,000 and £2 million (figures from UKTI, 2012).
UKEF operates a regional network of Export Finance Advisors. Its services complement export insurance and finance available to business from accredited financial services organisations in the private sector.
In 2011 UK Export Finance broadened its business domain and product range to provide support for exports sold on short terms of payment.
Media enquiries: Julia Beck, Media Relations Manager
Published 21 May 2013