News story
Cloud computing offers real economic benefits, says Minister
The Minister outlined the potential of the new technology at the third annual UK-China Internet Forum, which was held at the Department for …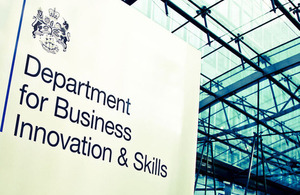 The Minister outlined the potential of the new technology at the third annual UK-China Internet Forum, which was held at the Department for Business, Innovation and Skills.
The forum brings together government and business from both countries to discuss business opportunities and policy issues related to the internet.
Cloud computing allows individuals and business to access internet-based computing, reducing the need to invest in your own hardware and software.
Mr Vaizey said cloud computing could drastically reduce costs for new companies and transform, for example, the way we use portable devices.
He said:
"Access to the networked resources provided by 'clouds' enables companies to enter markets without having to meet the capital costs of building their own computer infrastructure.
"What they get instead is a sort of 'pay as you go' service tailored to their specific requirements.
"This is especially significant today, at a time when we are seeing an explosion in the number of portable devices with limited storage capacity.
"Access to clouds enables them to transcend that limitation and provide a level of functionality which would normally be associated with much larger machines."
But realising the full potential of this technology would require significant change, Mr Vaizey added.
He said ensuring individual privacy and data security, which would be essential for consumer trust and confidence, would need a step-change in co-operation between industry, consumers and governments.
The Minister said:
"Cloud computing is a good illustration of the need for international co-operation to ensure the very important developments on the internet that hold great potential for both our countries are taken forward."
Notes to Editors
For further information contact Paul Conroy, BIS press office, on 020 7215 5303.

BIS' online newsroom contains the latest press notices, speeches, as well as video and images for download. It also features an up to date list of BIS press office contacts. See http://www.bis.gov.uk/newsroom for more information.
Notes to Editors
Contact Information
Name BIS Press Office Job Title
Division COI Phone
Fax
Mobile
Email NDS.BIS@coi.gsi.gov.uk
Published 22 November 2010