World news story
Closing Event of the Science and Innovation Fund
The Science and Innovation Fund achieved its principal objective: creating and strengthening links between the UK and Uruguay in the areas of science and innovation.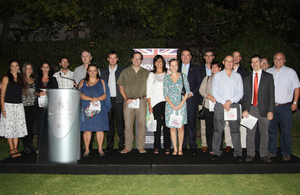 On Tuesday 8 March the Ambassador, Ben Lyster-Binns, hosted a cocktail to celebrate the success of the Science and Innovation Fund through which more than 250 Uruguayan, and some 100 British researchers, worked together on a variety of science projects.
The event was attended by all those who had participated in the implementation of the fund, by the Under Secretary of Education, Edith Moraes, and the President of ANII, Fernando Brum. In his speech the Ambassador highlighted the important links forged between institutions and researchers from both countries:
"The enormous potential that the UK and Uruguay have to work together has been demonstrated by this fund. On more than one occasion the British researchers were surprised by local capabilities. Not only were many ties created, but also many institutional relationships that I am sure will thrive in the near future", he said. The million pound Fund (US$ 1,6 million) permitted 16 Uruguayan and 28 British institutions the opportunity of collaborating via courses, workshops, conferences, exchanges and laboratory work, that have taken place over the last six months. For example, institutions such as the University of the Republic (UDELAR), the Uruguayan Technological Laboratory (LATU), the University of Edinburgh and the London School of Hygiene and Tropical Medicine.
Out of 120 proposals 24 were funded at a total cost of US$ 875.000. A proportion of the funds were used to finance travel grants for Uruguayan research visits to the United Kingdom to experience working with avant-garde technology that will benefit their projects. Another example is the funding of three workshops for Uruguayan and British researchers in the early years of their careers, selected and run by the British Council as part of the Researcher Links programme, with the aim of improving the quality of investigations. The British Council, in cooperation with ANII, organised workshops on scientific communication skills for 100 researchers in Montevideo and Rocha.
At its successful closure the fund has fulfilled all its objectives, forming long lasting academic links between Uruguay and the United Kingdom that will only continue to develop in the years to come. The success of the fund was in great part due to the receptiveness of the Uruguayan academic community, who understood how to maximise the opportunities the fund offered and reflect this in the high quality proposals that were submitted.
Published 10 March 2016