Climate finance transparency promoted online
The UK government supported an online international initiative that provides information about the origin, amount and use of climate funds going to developing countries to support action to fight climate change.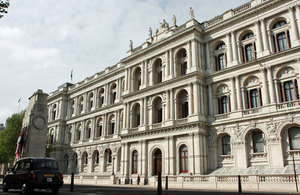 UK envoy to the Philippines Stephen Lillie welcomes this initiative as an opportunity that complements the climate change and transparency commitments of the Aquino Administration in a statement on Wednesday.
'The Fast Start Financing was an important achievement of the Copenhagen Climate Change Summit in 2009. It will help developing countries adapt to climate change, adopt clean technology and reduce emissions from deforestation,' said UK envoy to the Philippines Stephen Lillie.
'This new internet initiative will help build confidence in the finance package as it will really increase transparency and help government, non-governmental organisations and the private sector identify specific climate funding opportunities that really match the Philippines' needs. As such I believe it complements well the Aquino Administration's commitments both to addressing climate change and to increasing transparency in government,' added Lillie.
The UK has committed to contribute £1.5 billion to Fast Start Finance over three years (2010-2012), of which £300 million would be dedicated to helping rainforest nations safeguard their forest.
The UK Government together with other countries like Indonesia, Vietnam, the Marshall Islands, Costa Rica, Colombia, Denmark, Germany, Norway and Mexico have supported the development of www.faststartfinance.org website initiated by the Dutch government. Launched on 3 September, the website aims to provide transparency about the amount, direction and use of fast start climate finance, in turn building trust in its delivery and impact. The United Nations Development Programme (UNDP) will undertake the service and maintenance of the website in close cooperation with World Bank and United Nations Environment Programme (UNEP).
Published 9 September 2010