Climate Change Minister sets out vision for local energy economies
Climate Change Minister Greg Barker is today launching the first stage of the government's plans to help communities become more self-sufficient…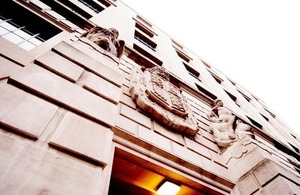 Climate Change Minister Greg Barker is today launching the first stage of the government's plans to help communities become more self-sufficient in the way they use heat and power.
Empowering communities to generate their own energy on a large and a small scale can not only bring in an income but also help save money on fuel bills and increase domestic energy security.
Homes, schools and businesses are already guaranteed cash payments through the 'feed-in tariff' for producing their own green electricity through technologies such as solar panels or small wind turbines, as well as for selling it to the national grid.
Around 100,000 homes and organisations have installed this kind of technology so far. The government wants to see what more it can do to help develop the industry, create more job opportunities, and make sure customers can trust the green technology they buy.
Greg Barker said:
I want to see more homes, communities and businesses generating their own energy. We can literally bring power back to the people. Microgeneration is a key part of this vision.
By becoming more self sufficient we can create sustainable local energy economies. People and communities can save money on their fuel bills at the same time as generating an income and cutting carbon. I want to work with industry to overcome the challenges it is facing. Together we will create a marketplace for jobs and prosperity alongside products and advice which people trust.
The consultation on the Microgeneration Strategy will look at 4 key areas for development:
quality - ensure consumers have confidence that equipment and installation is reliable and adheres to the highest standards
technology - examine how to improve products through more trialling of technologies new to the UK
skills - develop the microgeneration supply chain to ensure it is properly equipped with the right people to meet the expected rise in demand, as well as creating and sustaining jobs in the UK
advice - provide more accessible advice and information about microgeneration to homeowners, communities and small businesses
Chief Executive of the Micropower Council, Dave Sowden, said:
We're delighted the Government is embarking on the development of a new vision for a true mass market UK microgeneration industry and bring sustainable energy self-production in reach of every citizen. Greg Barker, The Rt Hon Chris Huhne MP and Charles Hendry have long supported this exciting new industry and we welcome the clear wish now they are in government to see this industry thrive and grow through a brand new Microgeneration Strategy.
Microgeneration is already a notable British manufacturing, servicing and export success story. It brings a unique personal touch for citizens to "do their bit" in tackling the country's energy efficiency and sustainability needs, as well as helping supply security, fuel poverty relief and creating thousands of green jobs in recent years. We look forward to working closely with the government on a new policy framework to allow every citizen, business, school, hospital, community and other organisations to grow their own energy.
More information on the Microgeneration Strategy
Notes for editors
1) Today's announcement is further to plans to overturn a ban on councils selling green electricity into the national grid. Last week, Climate Change Secretary The Rt Hon Chris Huhne MP said he wants local councils to be allowed to sell electricity they produce from renewables to the national electricity grid. DECC will be repealing the 1976 Local Government Act by the end of the year.
2) The focus of the Microgeneration Strategy will be electricity generation technologies less than 50 kW in size, and heat generating technologies less than 300 kW in size. This includes:
air, ground and water source heat pumps
solar photovoltaics (PV)
solar thermal water heating
biomass boilers
micro Combined heat and power (micro CHP)
micro wind turbines
fuel cells
micro hydro schemes
passive flue gas recovery devices
3) The Green Energy (Definition and Promotion) Act 2009 commits government to consult on a new Microgeneration Strategy with the expressed purpose to promote microgeneration technologies in England only. The government will publish the final Microgeneration Strategy in early 2011. Microgeneration is a devolved matter. The DAs have been consulted and will be developing their own plans for Microgeneration.
4) Feed-in-tariffs for small-scale electricity generators, like solar panels or micro wind turbines, came into effect on 1 April 2010. DECC is also looking at how we move forward to ensure the right incentives are in place for renewable heat and will aim to make an announcement on the future of the proposed scheme as soon as possible.
5) Those wishing to contribute to the consultation should email: microgenconsult@decc.gsi.gov.uk, which went live at midnight on 12 July. The consultation will close on 22 December 2010.
Published 12 July 2010