Clegg outlines vision for development
A pledge to put women at the 'front and centre' of aid with a new emphasis on girls' education and family planning is a key element of a new reform plan to achieve the Coalition Government's objectives on international development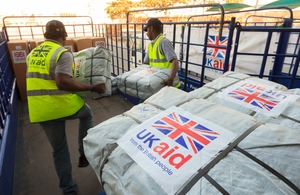 Deputy Prime Minister, Nick Clegg, outlines vision for international development
Unveiled by the Deputy Prime Minister and International Development Secretary Andrew Mitchell, the plan focuses on the key actions and milestones that DFID will deliver to support the Millennium Development Goals, the global blueprint to improve the lives of the world's poorest.
The Deputy Prime Minister has made it a personal mission to champion the goals both in Government and internationally and will represent the UK at the United Nations Millennium Development Goals Summit in New York this September 2010. The Prime Minister, David Cameron, has already made clear that the Coalition Government will continue to drive forward progress in the fight against poverty.
The DFID Structural Reform Plan sets out key steps the department will take to deliver better value and more effective aid. Falling into six themes, these include:
Role of Women: New programmes to get more girls into primary and secondary education; to promote economic empowerment of women and pilot new approaches to eliminate violence against women.
Value for Money: Developing more results-based aid and cash on delivery contracts.
Wealth Creation: Developing new projects on property rights, investment and microfinance.
Conflict and Stabilisation: Revising DFID strategies for Afghanistan and Pakistan. Develop a strategy for more integrated post-conflict reconstruction, building on the Stabilisation Unit.
Climate Change: Help poor countries to take part in international climate change negotiations.
International Commitments: Honour the UK's commitment to spend 0.7% of national income on overseas aid from 2013 and enshrine this commitment in law.
On a visit to DFID, the Deputy Prime Minister, Nick Clegg, said:
We must stand firm by our commitments to help the poorest people in the world. Economic times are tough, and no-one is suffering more than those already living in poverty. Our decision to ring fence the aid budget is not only morally right but in our national interest - having a knock-on effect on security, migration and trade.

This government will be a champion for development. The UK can lead the world in its work to combat poverty.
Secretary of State for International Development Andrew Mitchell said:
We will seek to persuade other countries to follow our lead and drive reform of the international aid architecture. These reforms will confront weakness and improve value for money, efficiency and focus throughout the international system.
Published 27 July 2010