Clegg launches Your Freedom website
Information on the launch of the Your Freedom website, which allows the public to suggest ideas on restoring lost liberties.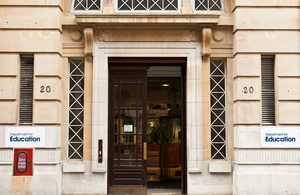 Deputy Prime Minister Nick Clegg yesterday issued a call to arms against pointless regulation and unnecessary bureaucracy, asking the public how they want the Government to redress the balance between the citizen and the state.
The Your Freedom website is an opportunity for anyone to suggest ideas on restoring liberties that have been lost, repealing unnecessary laws and stripping away excessive regulation on businesses.
Once ideas have been submitted, users of the site will be able to comment and rate their favourite ideas. Relevant departments will respond to the most popular workable ideas, and the Deputy Prime Minister will give regular updates.
The aim is that the government will roll back the unnecessary regulation that really matters to people. There will be a Freedom Bill in the autumn that will take into account the views expressed on Your Freedom, and departments will consider every suggestion.
Further information
Anyone who doesn't know how to use the internet but would like to be involved in the consultation, call 0800 77 1234 to find your nearest UK online centre. UK online centres are a network of free computer centres across England that offer people help and support to access and use computers and the internet.
Related links
UK online centres The website for UK online centres, which provide people with free or low-cost access to computers and the internet, together with help and advice on how to use them.
DfE enquiries
Central newsdesk - for journalists 020 7783 8300
General enquiries - for members of the public 0370 000 2288
Published 2 July 2010