World news story
Cleaning up financial crime
UK supports Burma's fight against Money Laundering and the Financing of Terrorism by unveiling a new digital system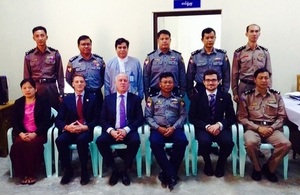 Burma's Financial Intelligence Unit (FIU) has been provided with a database system for Suspicious Transaction Reports (STRs). The FIU's primary function is to receive, analyse and action such reports and the new system will improve analysis of their content while increasing efficiency. The system was developed specifically for the FIU by UK financial crime specialists GovRisk, and funded under the UK Government's Prosperity programme, which seeks to open markets and strengthen good governance in partnership with local institutions.
Nicolas Le Moignan, GovRisk Director of Bespoke Training and Consultancy, who was present to implement the new system, remarked:
I am delighted that we are able to provide this small but vital system to the FIU, which they will continue to develop along with other elements of the analysis function, thereby providing more actionable information to law enforcement. Thanks to new legislation and the FIU's increased engagement with reporting entities, the number of reports is expected to increase, so it was important to meet this need promptly.
Brigadier-General Soe Myaing, Head of the Financial Intelligence Unit, said:
I would like to register our appreciation for our partnership with GovRisk and the British Embassy. Through their contribution we can see improved operational efficiency and strengthened capacity of our personnel to tackle financial crime.
Also last week, GovRisk held the second of two round-table meetings with the FIU and representatives from the new reporting sectors covered under the 2014 Anti-Money Laundering Law. These included lawyers, accountants, real estate dealers and dealers in high value items, all of which now have a legal obligation to file Suspicious Training Reports. The aim was to explore some of the challenges posed by regulating these sectors, and allow both sides to agree to realistic timeframes for the introduction of rules, standards and training. For more information on the results of this work, please contact the FIU.
Further information
Burma's 2014 Anti-Money Laundering Law updates the legal framework for the crime of money laundering and expands the obligation to report to "Designated Non-Financial Business and Professions". This is in line with international standards and will require these sectors to introduce relevant regulations and standards.
The Financial Action Task Force (FATF), an intergovernmental body which sets and monitors standards for financial crime prevention, identified Burma as not having committed to an action plan to address "strategic deficiencies" in its AML/CFT policies and procedures. FATF advises that, to be removed from this list, Burma must:
1) adequately criminalise terrorist financing;
2) establish and implement adequate procedures to identify and freeze terrorist assets;
3) ensure a fully operational and effectively functioning Financial Intelligence and
4) strengthen customer due diligence measures. This project contributes principally towards points 3 and 4.
About GovRisk
GovRisk is a provider of technical assistance, training and consulting services to government bodies and private sector institutions worldwide. Since 2010 GovRisk has provided high quality consultancy and training programmes to public and private sector institutions from more than 30 countries, within the fields of financial crime, corruption, risk management and governance. For further information please visit:GovRisk
Published 10 March 2015