News story
Clean-up set to resume offshore
Work to clean up and close down the redundant nuclear site at Dounreay moves offshore again this month.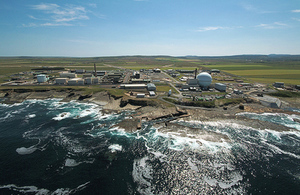 A remotely-operated vehicle will return to the seabed to remove fragments of irradiated nuclear fuel buried in sediments.
Following trials offshore in 2008 and 2009, this year will be the third consecutive year of full-scale clean-up operations.
The largest activity fragments – from the reprocessing of nuclear fuel and discharged to sea up to 50 years ago – are believed to be the continuing source of smaller, less hazardous particles that find their way onto nearby beaches.
They are located in a "plume" that is mainly spread over 60 hectares of seabed from a disused discharge point 600 metres offshore.
More than 1800 have been recovered from the seabed to date. This year's work is expected to complete coverage of the plume by remotely-operated vehicle and may provide sufficient data to allow the offshore work to be completed.
The main plume is equivalent in size to 600 Olympic-size swimming pools.
Senior project manager Bill Thomson said: "Our aim this year is to undertake the work discussed with the Particles Retrieval Advisory Group and provide sufficient confidence, through the retrieved data, to establish whether any further offshore work is required.
"The planned work includes some repeat coverage, providing us with valuable data about repopulation rates, caused by sediment movement, and the efficiency of the clean-up system.
"We'll be providing real-time data to the independent experts who sit on the advisory group and who advise us and the Scottish Environment Protection Agency.
"An earlier advisory group produced estimates in 2008 of the distribution of particles in the seabed, so this year's data will allow the current advisory group members to compare those estimates with the results obtained from complete coverage of the plume by the ROV. This will allow the current offshore particle situation to be reviewed."
Seabed clean-up is carried out by a contractor, Land and Marine, supported by specialist radiation detection firm Nuvia.
A 1500-tonne barge, LM Constructor, will be moved into position above the plume early in May and will work around the clock, weather permitting, until late summer.
The ROV is lowered into water up to 35 metres deep and driven over the seabed at 1mph from a control room aboard the barge.
Radiation detection equipment on the ROV can detect higher activity fragments buried at least 50cm deep in the sediment.
They are recovered by an auger that drills down into the seabed. The sediment is collected in a chamber on the ROV which is lifted onto the barge where specialist staff separate the sediment from particles. The sediment is returned to the seabed and the particles to Dounreay.
Published 1 May 2012