Clarke: Tough intelligent sentences
Justice Secretary Kenneth Clarke has today announced a new sentencing regime.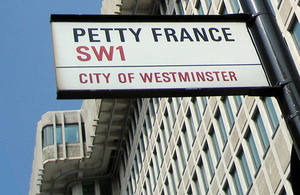 This will see more dangerous criminals given life sentences, an end to the indeterminate sentencing system, to be replaced by long determinate prison terms, and mandatory custodial sentences to be available for both adults and 16-17 years olds convicted of aggravated knife and offensive weapon offences.
It follows the Prime Minister's announcement on 21 June 2011 that the Government would review the Imprisonment for Public Protection (IPP) sentence with a view to replacing it with a new regime which would be better understood by the public and command greater confidence.
The new regime will include:
Mandatory life sentences - a 'two strikes' policy so that a mandatory life sentence will be given to anyone convicted of a second very serious sexual or violent crime. This will mean that mandatory life sentences can be given for crimes other than murder
Extending the category of the most serious sexual and violent offences to include child sex offences, terrorism offences and 'causing or allowing the death of a child' so that the new provisions will apply to them
The Extended Determinate Sentence (EDS) - all dangerous criminals convicted of serious sexual and violent crimes will be imprisoned for at least two thirds of their sentence, marking an end to the regime which allowed the release of these offenders at the half-way point. Offenders convicted of the most serious sexual and violent crimes in this category will not be released before the end of their sentence without Parole Board approval
Extended licence period - criminals who complete an EDS must then serve extended licence periods where they will be closely monitored and returned to prison if necessary. The courts have the power to give up to an extra five years of licence for violent offenders and eight years for sexual offenders on top of their prison sentence
Mandatory custodial sentence for aggravated knife possession - 16 and 17 years olds - but not younger children - convicted of using a knife or offensive weapon to threaten and endanger will face a mandatory four month Detention and Training Order (DTO). The Government has already announced proposals for a mandatory six month sentence for adults convicted of the same offence.
Kenneth Clarke said:
'We intend to replace the widely criticised IPP system, which the public doesn't have confidence in, with a new regime of tough, determinate sentences. Under our plans we expect more dangerous offenders to receive life sentences. Those getting the new Extended Determinate Sentence will have to serve at least two-thirds of it behind bars before release. We are clear that there will be no automatic release before the end of the full sentence for the most serious cases.
'The new regime will restore clarity, coherence and common sense to sentencing, rid us of the inconsistent and confusing IPP regime and give victims a clearer understanding of how long offenders will actually serve in prison.
'We have already announced that we are bringing in an automatic prison sentence for any adults who use a knife to threaten and endanger. Clearly any extension of this sentence to children requires very careful consideration. However, we need to send out a clear message about the seriousness of juvenile knife crime, so we are proposing to extend a suitable equivalent sentence to 16-17 year olds, but not to younger children.'
The new measures will be debated in the House of Commons next week and if passed, will be added to the Legal Aid, Sentencing and Punishment of Offenders Bill which is currently progressing through Parliament.
Notes to editors
These changes will not apply retrospectively to current prisoners: those on existing IPPs will continue to be assessed on a case by case basis by the Parole Board.
Sentences of Imprisonment for Public Protection (IPPs) were created by the Criminal Justice Act 2003 and became available in April 2005. They were designed to protect the public from serious offenders whose crimes did not merit a life sentence.
Offenders sentenced to an IPP are set a minimum term (tariff) which they must spend in prison. After they have completed their tariff they can apply to the Parole Board for release. The Parole Board will release an offender only if it is satisfied that the risk of harm presented by an offender is such that it may be safely managed in the community. If offenders are given parole they will be on supervised licence for at least 10 years. If offenders are refused parole they can only apply again after one year. 
The Detention and Training Order is the main custodial sentence for under-18s which is served half in custody and half under supervision in the community.
For more information, please call the Ministry of Justice press office on 020 3334 3536.
Published 26 October 2011