Press release
Ken Clarke: meeting with Scottish companies Brazilian oil market.
Ken Clarke is meeting Aberdeen-based energy companies about how they can capitalise on a potential £12 billion partnership with Brazilian firms.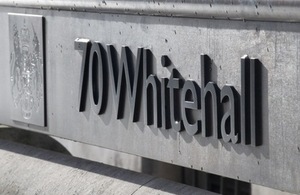 On his first visit to Scotland as the Prime Minister's international trade envoy Ken Clarke is today meeting Aberdeen based energy companies to talk about how they can capitalise on a potential £12 billion partnership with Brazilian oil and gas companies.
During his 1-day trip Clarke will make clear that he believes Scottish expertise is badly needed in Brazil and will be encouraging companies to seize this fantastic opportunity in one of the world's biggest emerging markets.
The minister heads up a UK Trade and Investment campaign designed to help the UK oil and gas industry take advantage of openings in the booming Brazilian energy market presented by Petrobras, Brazil's state owned oil giant.
Mr Clarke said:
There are huge opportunities for Scottish based energy businesses in Brazil right now. The Scots are world-renowned for their expertise in drilling in extremely hostile environments. This is expertise the Brazilians badly need as they invest hundreds of billions of dollars into developing their oil fields.

I am following up the Prime Minister's trip to Brazil last year during which he successfully pushed Scottish excellence at the highest levels of the Brazilian Government, and the state owned oil giant Petrobras.

I want to discuss what more the British government and its network of ambassadors, embassies and trade officials can do to open the door to the Brazilian market for these companies. This will be good for Brazil, good for Scotland and good for the United Kingdom as a whole.
Notes to editors
Petrobras has made significant discoveries in pre-salt oil fields off the south-east coast of Brazil and has committed hundreds of billions of dollars of investment in the infrastructure needed to exploit them. Extraction from these fields presents significant technical challenges, directly comparable to those faced by UK companies engaged in the exploration and extraction of the deep-water reserves in the North Sea.
With significant gaps in the local supply chain Petrobras and its lead Brazilian engineering contractors are looking for Scottish expertise to help their rapidly expanding offshore activities.
A senior Petrobras delegation visited the UK in December following a meeting between the PM and Petrobras President Maria das Gracas Foster in September 2012. They returned to Brazil deeply impressed with the unrivalled expertise and skills base in Aberdeen which has developed over 45 years of exploration and development in the hostile deep waters of the North Sea.
Mr Clarke is today meeting representatives from dozens of companies in meetings hosted by Oil & Gas UK and Subsea UK in Aberdeen. He will visit Nautronix, a Scottish company based in Aberdeen specialising in through water communication and positioning technology.
He will also visit AMEC, one of the UK's leading engineering contractors who are known for their innovative approach to engineering design and project management.
The Petrobras business plan, 2012 to 2016, forecasts $236.5 billion of investment in the period, 60% of which will be directed towards exploration and production. For example, over the next few years Petrobras will need 48 large offshore production platforms and 38 drilling rigs with the capacity to operate at over 2,000 metres water depth. Each of these platforms will be valued at more than US$1 billion.
Ken Clarke will be visiting Brazil from 21 to 24 January 2012 and will be accompanied by UK oil & gas companies specially selected by Petrobras for discussions with potential Brazilian partners.
Published 16 January 2012