Clarke: radical reforms will ensure people are protected
Ken Clarke announced tough measures to better protect people from intruders, dangerous criminals and excessive no-win no-fee legal costs.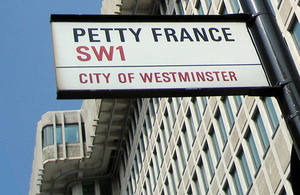 The proposals in the Legal Aid, Sentencing and Punishment of Offenders Bill are the latest in a series of radical moves to reduce reoffending, improve sentencing and reform the legal aid system.
Mr Clarke said: 'People should feel safe in their communities and especially in their own homes and these measures, along with the rest of our radical package of reforms, will ensure they are protected.'
The measures include:
Making squatting in residential buildings a criminal offence
Strengthening people's rights to use force to defend themselves from intruders in their own homes
Giving magistrates power to hand down bigger fines
Banning referral fees that allow middle-men to profit from encouraging others to make unnecessary compensation claims.
The new measures will be debated in the House of Commons next week and, if passed by vote, will be added to Legal Aid, Sentencing and Punishment of Offenders Bill which is currently progressing through Parliament.
Read the full amendments on the Parliament website
Press release: Better protection from intruders and excessive compensation costs
Published 26 October 2011