Clarke: Hate crime laws extended
People who murder disabled or transgender people in hate crime attacks will face life sentences with a starting point of 30 years.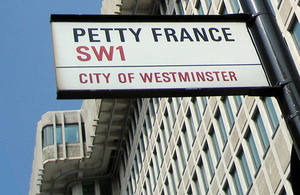 The Ministry of Justice plans to amend the Criminal Justice Act 2003 so that murders motivated by hatred or hostility towards disabled or transgender people will have the same starting point as for murders aggravated by race, religion and sexual orientation. This will double the current starting point for disability and transgender hate crime murders.
The Act will also be updated so that where any offence is shown to be motivated by hostility towards the victim on the grounds of transgender, as well as race, religion, sexual orientation, and disability, sentences must be made more severe.
Mr Clarke said: "Hate crimes are abhorrent, they leave sections of society living in fear and at risk of unprovoked violence. The courts already treat all hate crime seriously and aggravate sentences accordingly.
'These proposals make clear offenders should be in no doubt that they face a more severe sentence for these unacceptable crimes.'
Published 8 December 2011