Clarke: European Court should allow for genuine differences of national approach
The European Court of Human Rights should pay proper regard to the role of national Parliaments and the decisions of domestic courts.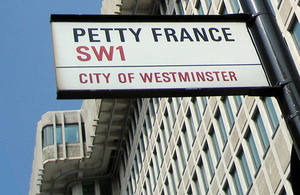 Speaking at a Council of Europe conference on the Future of the European Court of Human Rights, the Justice Secretary will make clear that the UK will continue to press for reform of the Court in the wake of increasing concern over controversial judgments and a backlog of more than 140,000 cases.
Speaking prior to the Conference, Kenneth Clarke said:
"In the UK we believe that the principles of the rule of law and the independence of the judiciary are fundamental to democracy. A country in which the government never loses a court case is not one in which most of us would wish to live."
"However we also believe that courts exist to serve the democracies over which they have jurisdiction."
 
"The UK has always been a strong supporter of the European Court of Human Rights.  But at times the Court has been rather too ready to substitute its own judgment for that of national courts, without giving enough weight to the strength of the domestic legal system, or allowing for genuine differences of national approach."
Urgent need to improve efficiency
"There is also an urgent need to make sure that the Court's efficiency is improved so that its vast backlog of cases is reduced, and for States to send the best possible judges to serve on the Court."
The UK is due to take over the rotating Chairmanship of the Council of Europe in November, and the Government has identified reform of the Court as its key priority.
During the conference, the Justice Secretary, will meet senior officials from the Council of Europe, including the Secretary General Thorbjørn Jagland and the President of the European Court of Human Rights, Jean-Paul Costa.
Notes to editors
For more information contact the Ministry of Justice Press Office on 0203 334 3536 or Becky Dearden on 0203 334 3528.
A full copy of the Secretary of States speech will not be available before 27/04/11
Published 26 April 2011