Clarke: court broadcasting
Courts in England and Wales will be more publicly accessible than ever before when television broadcasting is introduced.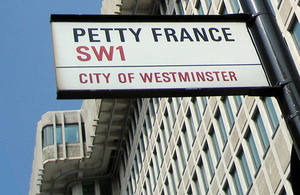 Courts in England and Wales will be more publicly accessible than ever before when television broadcasting is introduced, Justice Secretary Kenneth Clarke said today.
Plans to overturn the ban on filming and broadcasting from law courts were yesterday unveiled as part of the Queen's Speech and will form part of the Crime and Courts Bill announced today.
Once the legal changes have been made broadcasting will be introduced initially at the Court of Appeal, where filming will be permitted of opening and closing legal arguments made by lawyers and the judgements handed down.
The Government will later look to allow filming at the Crown Court - but of judges' sentencing remarks only. No victims, witnesses, offenders and jurors would be filmed.
Justice Secretary Kenneth Clarke said:
'We are bringing the concept of open justice into the modern age and in doing so we will make the courts more accessible to the public than ever before.
'People have always had the right to go to watch proceedings in courts but in reality very few actually do.
'By allowing broadcasting from courts we are now enabling many members of the public to see, for the first time, court proceedings as they happen.'
Filming and broadcasting in court is currently banned under two Acts of Parliament which the new legislation will be used to amend. The changes will be made in close consultation with the judiciary and broadcasters.
The move is intended to improve public understanding of the justice system. It is the latest stage of the Ministry of Justice's work to open up the justice system, which has also included:
Publishing court-by-court statistics for the time taken for cases to be processed, from offence to conviction, so people can compare the performance of their local courts
Publishing anonymised data on every case heard at local courts and the sentences given
Publishing details of how many people have been convicted or released from prisons in each area and how often they re-offended afterwards
From this month, adding justice outcomes to the crime data on police.uk so people can see what happens next after crimes are committed in their areas.
The Crime and Courts Bill also includes a number of other measures which will drive the modernisation of the justice system. These include:
Increasing the efficiency of fines by providing incentives for compliance, so offenders bear the cost for delaying payment, not taxpayers
Creating a Single County Court system and a Single Family Court for England and Wales to allow greater flexibility for the handling of cases
Reforming the judicial appointments process to introduce greater transparency and improve diversity
Introducing flexible deployment so judges can move between courts and tribunals more simply
Allowing data to be shared between the courts, tribunals service and other agencies so fee exemption applications can be checked electronically.
Read details of the proposals for broadcasting selected court proceedings.
Notes for editors:
Broadcasting in court is currently prohibited by Section 41 of the Criminal Justice Act 1925 and Section 9 of the Contempt of Court Act 1981. The Government intends to bring forward new primary legislation to amend these.
For more information contact the Ministry of Justice press office on 0203 334 3536.
Published 10 May 2012