Clarke: Broadcasting in court to be allowed for first time and increased transparency of local court performance
The ban on filming in law courts will be overturned to improve public understanding of the justice system.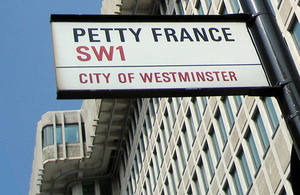 Mr Clarke said broadcasters will be allowed to screen footage of judgments for the first time, as part of unprecedented plans to improve transparency.
Mr Clarke said:
'The Government and judiciary are determined to improve transparency and public understanding of court through allowing court broadcasting. We believe television has a role in increasing public confidence in the justice system.'
Broadcasting will initially be allowed from the Court of Appeal, and Government will look to expand to the Crown Court later. All changes will be worked out in close consultation with the judiciary.
Filming will be of judges' summary remarks only - victims, witnesses, offenders and jurors will not be filmed.
Filming and broadcasting in court is currently banned under two Acts of Parliament and new legislation will need to be passed to allow cameras into the courts.
In addition to allowing broadcasting, Mr Clarke announced that an unprecedented level of information about the performance of courts will be published in future to allow everyone to see how their local courts are working. This will include:
Court-by-court statistics for the time taken for cases to be processed, from offence to conviction, allowing people to compare the performance of their local courts
Details on how many trials were ineffective and why they were ineffective
Anonymised data on each case heard at local courts and the sentences given
Details of how many people have been convicted or released from prisons in each area and how often they re-offended afterwards
From next May justice outcomes will be placed alongside crime data on police.uk so people can see what happens next after crimes are committed in their areas
More information on how the civil and family justice systems, including how long it takes each court to process small claims hearings, larger cases and care proceedings.
Notes for editors
Broadcasting in court is currently prohibited by Section 41 of the Criminal Justice Act 1925 and Section 9 of the Contempt of Court Act 1981. Government intends to bring forward new primary legislation to amend these
For more information contact the Ministry of Justice press office on 0203 334 3536
Published 6 September 2011