World news story
Clarion call for the GREAT Debate 2015 Delhi rounds
The competition, in its third year now, aims to celebrate the rich history of debating in India and facilitates informed discussions amongst the student communities.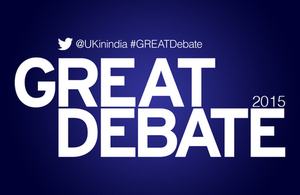 The GREAT Debate competition organised by the British High Commission will be held in New Delhi on 24 September (for Delhi University students) and 15 October (winners from the DU round + other universities in and around New Delhi).
About 150 colleges and universities across Bhubaneswar, Bengaluru, Chennai, Ahmedabad, Hyderabad, Delhi, Kolkata, Mumbai, Chandigarh and Jaipur will battle it out to secure a place in the Grand Finale of the GREAT Debate in January 2016.
Two winning teams after the finale will be offered a one-week sponsored study tour in the UK, which will include visits to historical sites, academic institutions and cultural events, as well as interaction with students in the UK. The British High Commission is co-hosting the competition with Sri Venketeswara College which is hosting the Delhi round of the Great Debate.
University students in Delhi interested in debates and winning the grand prize of the GREAT Debate competition should register immediately by writing to Piyush or call on 9540798428.
24 September – GREAT Debate Competition for Delhi University students
15 October – GREAT Debate Competition for other Universities in New Delhi
British Council and Chevening India are working closely with the British High Commission to organise the debate.
Virgin Atlantic, Premier Explore and Luxury Hotels Group are offering attractive prize to the finale winners.
Further information
about GREAT Debate - The GREAT Debate is a unique opportunity to celebrate the UK and India's shared culture of vibrant discussion and debate. British High Commission and British Council are jointly organising the GREAT Debate. The participants of the debate are students below 23 years of age as on 31.12.2015.
For more information please visit:
Stuart Adam, Head,
Press and Communications
British High Commission, Chanakyapuri
New Delhi 110021
Tel: 24192100; Fax: 24192411

Mail to: Sakthy Edamaruku
Follow us on Twitter, Facebook, Flickr, Storify, Eventbrite, Blogs, Foursquare, Youtube, Instagram, Vine, Snapchat @UKinIndia, Periscope @UKinIndia
Published 18 September 2015