Clampdown on claims marketing
Firms that offer cash incentives to attract people to make compensation claims through them will be stopped under new proposals.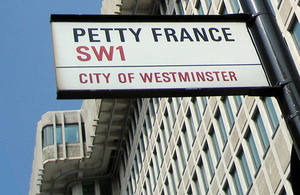 At present, some companies promise people a financial reward - for example: 'We'll pay you £200 immediately after our solicitors approve our claim'. This is designed to attract people who may be led to believe they can receive a large payout for minor incidents such as slips, trips and falls. 
The proposed rule change would stop the offering of cash payments or similar benefits to attract claimants and forms part of the Ministry of Justice's response to Lord Young of Graffham's report on compensation culture, Common Sense, Common Safety.
The rule change is a targeted restriction and is unlikely to have a detrimental effect on the majority of legitimate claims management businesses.
Kevin Rousell, Head of Regulation at the Ministry of Justice said:
'We have accepted Lord Young's report and plan to take the necessary steps to ensure that the concerns raised about the marketing practices of some claims management businesses are tackled at the earliest opportunity. This consultation is an important step towards tackling irresponsible marketing.' 
Notes to editors
The consultation is published online. It closes on 10 February, 2011, subject to the outcome of consultation the Ministry of Justice plans to implement the rule change in April 2011, in line with Lord Young's published implementation timetable.
The proposals see amendments to the Client Specific Rule 6(b) of the Conduct of Authorised Persons Rules 2007.
Lord Young wrote to the Head of Claims Management Regulation to set out specific concerns about claims management businesses and identified the use of inducements, that might encourage claims being made, as a particular problem. This form of marketing for claims management businesses is currently regulated under the Compensation Act 2006.The MoJ estimates that around five per cent of all regulated businesses currently offer these types of inducements and within that five per cent, the majority of those firms appear to be smaller and not generally operating on a national scale. An example of the sort of advertising that is currently permitted is:
'We'll pay you £200 immediately after our solicitors approve your claim' or 'As soon as we accept your claim, we promise to give you a £150 cash advance'.
Published 6 January 2011