Press release
Clacton beach goers advised to stay off the rocks
The Environment Agency is asking parents and schools to talk to children about the dangers of playing on rock Groynes when they go to the beach. This follows several recent sightings on Clacton beaches of children playing on the rocks despite the warning signs.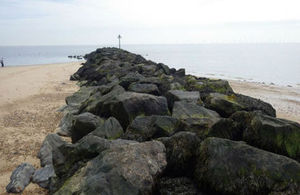 In 2011, the RAF had to rescue 3 teenagers from the oncoming tide after 1 of them got her leg caught between rocks on Clacton beach.
Dave Knagg, Operations Manager at the Environment Agency said:
We want people to enjoy the beach but to observe the signs which are there for a reason. Whilst rock groynes appear to be a fun place to play and find sea life, they're also an accident risk.

The surfaces can be slippery and the gaps between the rocks, designed to disperse waves, can trap limbs as they have in the past.
The Agency will be distributing a poster to schools with the following warnings:
the rocks are always slippery and covered with shells and sea life – these can cut and injure anyone climbing or walking on them
the small gaps in the rocks are designed to disperse the wave action – they are not places to explore or hide in
some of the rocks get covered by the tide twice a day – you can easily get trapped by the incoming tide
you don't know how deep the water is – don't jump off the rocks into the unknown
don't swim near the rocks – some will be hidden underwater and will injure you if you collide with them
Published 3 July 2015