Civil Servants join Software Developer Accelerated Apprenticeship
A new accelerated apprenticeship gives civil servants the chance to learn vital software developer skills.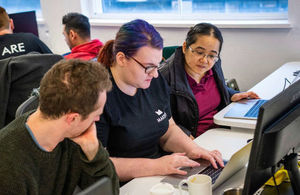 22 career civil servants, from six government departments, have been selected to take part in a unique pilot programme that will see them learn important skills in response to a high demand for software developers across government.
The Software Developer Accelerated Apprenticeship, shortens the traditional training period of 24 months to just over a year, and is specially designed to allow apprentices to undertake a 12-week training bootcamp and then spend the remaining months on placement in their department, putting their new skills into practice.
The programme, being led by Digital, Data and Technology Profession, in partnership with Makers, differs from other civil service digital apprenticeship programmes in that it focuses on retraining civil servants who are already skilled in their own field, with new technical skills, which can then be aligned with the needs of their departments.
The pilot has proved very popular, with 182 applications received from participating departments including: Cabinet Office, Department for Education, Department for Environment, Food and Rural Affairs, Department for Work and Pensions, Home Office and Ministry of Justice.
Kevin Cunnington, Head of the Digital, Data and Technology Profession and Director General of the Government Digital Service (GDS), said: "Investing in developing our people is very important and we knew there were civil servants who had the potential and aptitude to become software developers but not the opportunity to pursue this. We wanted to offer them a chance to reach their full potential and enhance their skills whilst continuing to work for their department, enabling us to bring new talent into the profession."
Following a rigorous selection process, the 22 apprentices were appointed to the programme and all successfully graduated from the training on 1 February 2019 and are now in the second phase working on placement in their departments.
Sharon, a caseworker for the Home Office for over 20 years, said: "As a civil servant you do not get opportunities as unique as this to re-train. I have always enjoyed solving problems and getting things to work. I have experienced issues as a front end user, but I now know that coding allows you to create solutions."
Alex, who was a Review Officer on the 2018 Parliamentary Boundary Review, said: "I worked for 3 years in 'traditional' Civil Service roles, I enjoyed it, but found I wanted a new challenge. Since starting this apprenticeship I have learnt an incredible amount. On the technical side I have learnt two programming languages, agile development practices and the practical application of code in building websites and apps. I have become a lot more mature and self-driven; this is reflected in the renewed passion I have for my work and the excitement I feel when collaborating with others."
Aga, Executive Assistant in the Director General's office at GDS, said: "I am surprised at how quickly we are progressing, and in the first six weeks of training I learnt basic object-oriented programming, test-driven development, web concepts, and databases. I've learnt more than just coding, I've learnt about testing your code with the right tools."
At the end of the one year programme, the apprentices will complete a final assessment with the British Computer Society and if successful will be awarded the Level 4 Software Developer Apprenticeship which will allow them to become Junior Software Developers.
Building on these positive results, the Digital, Data and Technology Profession is planning to expand the programme across government. If you'd like to know more about the programme please email ddat.talent@digital.cabinet-office.gov.uk.
About the Software Developer Accelerated Apprenticeship
The new programme's accelerated model was designed to enable apprentices to progress to Junior Software Developers quicker than undertaking a traditional apprenticeship of 18 to 24 months, thus helping to meet the demand for software developer skills across government.
The apprenticeship offers a unique training delivery model featuring a 4-week induction followed by 12 weeks up-front training at the start of the programme, where apprentices learn basic programming skills and languages. At the end of this intensive training, apprentices return to departments to work with teams supporting live projects for the remaining months. For more information contact ddat.talent@digital.cabinet-office.gov.uk.
About the Digital Data and Technology Profession
The Digital, Data and Technology (DDaT) Profession is one of the professions of the Civil Service. Based at the Government Digital Service (GDS) it works collaboratively across government to help departments and organisations attract, develop and retain the people and skills they need to transform public services.
One of the Profession's areas of focus is to help government grow its own talent by up-skilling public servants in critical skills areas through a number of cross government programmes and initiatives including notably the Data Science Accelerator and the Software Developer Accelerated Apprenticeship. For more information contact ddatprofession@digital.cabinet-office.gov.uk.
About Makers
Makers is creating a new generation of tech talent who are skilled and ready for the changing world of work. We are inspired by the idea of discovering and unlocking potential in people for the benefit of 21st century business and society.
Makers is the premier coding provider based in Shoreditch, London. In 16 weeks the organisation will train developers to become fully qualified software engineers. Makers has a successful track record for spotting and developing the talent of developers from different backgrounds. Over 35% of its engineers have been women: two times higher than the industry average. To date, Makers Academy has turned over 1,500 people into junior software engineers and placed them with leading global brands such as Deloitte Digital, Vodafone and Deliveroo.
Published 6 March 2019