World news story
Civil recovery retrieves $19.5m and 2,500 acres with more to come
Laurence Harris, deputy managing partner, Edwards Wildman, provides an update on the Turks and Caicos civil recovery programme.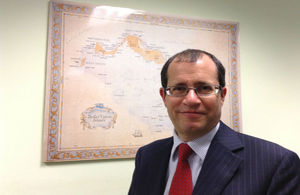 The Turks and Caicos Islands (TCI) civil recovery programme began in December 2009 to regain the assets of the TCI taxpayer that were obtained improperly. An account of this extensive maladministration was detailed at length in Sir Robin Auld's Commission of Inquiry report.
Law firm Edwards Wildman was appointed after a competitive tender to work closely for the TCI Attorney General and Government to pursue these cases. Harris said:
We have now opened 62 case files, an increase on last year's figure of 51. Our work covers a wide range of matters, some well known from the Commission of Inquiry Report; others not identified by the Commission of Inquiry and some which have only come to light since then. These claims cover the recovery of land, damages, or both. As well as claims for corruption and fraud, we have claims for breach of contract, for unjust enrichment, for recovery of unpaid Stamp Duty and for other civil causes of action.
This time last year we had recovered nearly $2.4m in cash and around 900 acres of land. Both of those figures have risen very substantially over the last twelve months. The cash already paid to the Government, or agreed to be paid, has now risen to $19.5m and land recoveries are now 2,508 acres.
And there is still much to do. Although several claims have concluded, we are awaiting judgments on two significant cases, and several more are still yet to go to trial. We have claims for many millions of dollars in damages and for well over a thousand of acres of land, all still to be heard by the TCI Courts.
Inevitably we understand that much of the short term focus on the programme is on how much cash has come in, particularly given the difficult financial circumstances the TCI finds itself in. We appreciate that short term cash helps with the immediate issue of balancing the books and we are doing our very best to collect as much as we can. However, the much more valuable long term asset is the land that has been recovered.
This land holds the key to help TCI generate long term revenues through sharing profits with developers. As well as giving the Government an opportunity for a higher degree of ongoing control over how land is used this approach allows the people of the TCI to share in the long term value of the land. Used this way, the land recovered is worth a very large amount of money – quite possibly over $100m – assuming it is used for long term partnerships. Of course, the job of the civil recovery programme is just to get the land back into the Government's hands – it is for the Government to decide what to do with it. But we hope that the very substantial value that is intrinsic to the land we have recovered will be understood as bringing real long term opportunity to TCI.
We remain on course to complete many of our cases by the end of the summer 2013. This year has seen our most intensive period of activity as many of our cases come to trial. We have had trials and hearings every month but one so far this year, often more than one a month, and that pace will continue. So far this year we have been involved in seven major hearings or trials since January and after this week, we have four more trials before the end of July. By the time we get to that point we will have completed the majority of our cases – subject of course to any appeals.
After July, we will still have a smaller number of cases which we will be progressing forward and which will probably not reach trial until 2014, unless they settle earlier. We continue to encourage settlement as a way of bringing matters to an end more quickly, provided the settlement looks to be sensible and appropriate, bearing in mind the size of the claim, and the settlement is consistent with the Government's approach in other cases.
We have also been assisting Chambers with non-civil recovery cases for the Government, most notably the Trade Winds claim brought by the owners of the Conch Farm against the Government and the Governor last year. We were delighted that the Court of Appeal agreed with us that the claim should be stayed for arbitration which had been our position all along. We now wait to see whether the Plaintiff decides to bring arbitration proceedings or not. Hopefully they have decided to abandon the claims since those claims are without any legal merit. Certainly so far since the Court of Appeal's decision the Conch Farm owners have not started any arbitration proceedings. If they do so, those proceedings will be very strongly defended.
So, in summary: the civil recovery programme continues to make good progress. We have made a substantial number of recoveries of cash and land; and we expect to make more recoveries over the next few months. Many of our cases will be completed by the end of the summer of this year, whilst a smaller number of cases will continue into next year, as well appeals on the completed cases.
Published 23 May 2013