World news story
City of London and Hong Kong partner to increase trade
From:

Part of:

Published:

13 January 2014
This was published under the 2010 to 2015 Conservative and Liberal Democrat coalition government
The Lord Mayor of the City of London, Alderman Fiona Woolf, visited Hong Kong on 13 January.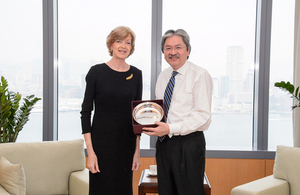 The Lord Mayor of London Alderman Fiona Woolf, who acts as the global ambassador for UK-based financial and professional services, visited Hong Kong on 13 January to strengthen bilateral ties on trade and investment.
During her stay in Hong Kong, the Lord Mayor called on Financial Secretary John Tsang to discuss next steps for UK-Hong Kong cooperation on internationalisation of the RMB and to explore the Hong Kong's aspiration to become an Islamic finance centre.
Over breakfast with UK legal firms based in Hong Kong, the Lord Mayor and Secretary for Justice Rimsky Yuen explored the scope for UK and Hong Kong to collaborate as international centres for commercial dispute resolution. The Lord Mayor also called on Hong Kong Monetary Authority Deputy Chief Executive Eddie Yue to talk about the latest developments in offshore renminbi markets in London and Hong Kong. She also met Financial Services Development Council Chairperson Laura Cha to propose ways in which CityUK could help the Council in its future plans.
In addition, the Lord Mayor spoke at the Asia Financial Forum and led a roundtable discussion on maritime services with the HK Shipowners Association. The latter identified a number of areas for joint working including:
professional education

maritime finance

maritime arbitration
Underlining the strong links between the UK and Hong Kong legal communities, the Lord Mayor attended the Ceremonial Opening of the Legal Year in Hong Kong. She was also guest of honour at a dinner hosted by the Consul General, Caroline Wilson, where she promoted the UK as the location of choice for HK and Chinese current and potential investors.
Further Information
The Lord Mayor acts as the ambassador for UK-based financial and associated services. She is the annually-elected head of the City of London Corporation which provides local government services for the Square Mile, the financial and commercial heart of the UK. Read more about the City of London Corporation and Lord Mayor Alderman Fiona Woolf
Follow the British Consulate-General Hong Kong on Facebook and Flickr
Follow the British Consulate-General Hong Kong on twitter@UKinHongKong
Document information
Published: 13 January 2014