City Deal signed to create thousands of jobs in Oxford and surrounding area
Nick Clegg announces cash injection for Oxford area to create jobs as part of landmark City Deal.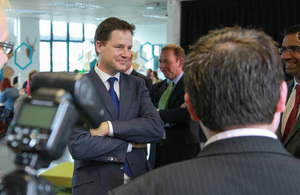 Oxford and the surrounding area will be given a cash injection to create thousands of new jobs, Deputy Prime Minister Nick Clegg will announce today as he signs the landmark Oxford City Deal handing power over to the region.
The City Deal will see major improvements in local roads and public transport specifically tailored to link universities with the city's major industrial and research areas. Road links to the Science Vale Enterprise Zone will be improved, and the first phase of the new Science Transit public transport scheme will begin.
The Science Transit will eventually see buses and trains running frequently between the universities and key innovation and economic areas, using "smart" tickets similar to London's Oyster cards, and with real-time travel updates available. The City Deal will see the scheme begin at key pinch points on the A34.
In addition, a network of 4 new innovation centres will give Oxford the tools to really make the most of its world-renowned science and research, creating jobs and driving the local economy for years to come.
Creating jobs
More than 18,000 long term jobs will be created through the deal, plus more than 30,000 construction jobs will be created to support the area's development. £55 million of central government funding for innovation, transport and skills will be combined with £40 million from local authorities to bring in £600 million from the private sector and create a total of almost 50,000 jobs in the area.
Today's announcement comes as the Deputy Prime Minister and Minister for Cities visit the Harwell science campus to sign the historic City Deal. They will meet staff who will benefit from the improved transport links and have a Q&A with more than 150 local people.
The Deputy Prime Minister will also announce today a grant of over £1 million for Element Six's synthetic diamond innovation centre from the Regional Growth Fund. The cash will be used to extend research and development and create 24 jobs, further boosting the region.
Opportunities
Deputy Prime Minister Nick Clegg said:
Today we are signing over real power from Whitehall to Oxford, giving the people who know Oxford best an unprecedented opportunity to decide how to invest millions of pounds in the region.

The Oxford City Deal will provide the improved roads and public transport links the area needs to make the most of its world class universities and innovative science facilities.

By creating thousands of jobs and hundreds of new apprenticeships, this deal has the genuine power to change the fortunes of many people across the region, ensuring we are building a stronger economy and doing it fairly.
Minister for Cities Greg Clark said:
As international centres of innovation go, it is difficult to think of a better pedigree than Oxford. The City Deal provides the tools for those who know Oxford best – business, local authorities and of course the universities – to forge their own path to success, using the area's strengths to create tens of thousands of jobs and bring in hundreds of millions in inward investment.
Transport Minister Baroness Kramer said:
As part of this City Deal we are contributing £22 million of government funding towards 3 local transport schemes that are key to local aspirations for the area.

These schemes will improve access to the Science Vale Oxford Enterprise Zone and the Northern Gateway development site, and the Oxford Science Transit scheme will connect the area's innovation and growth centres with universities. This confirms our commitment to support transport infrastructure projects that unlock sites for economic growth, helping to create jobs and to connect people to jobs.
The private sector investment includes a variety of projects including £600 million for site development, transport infrastructure, skills schemes, business support services and innovation centres to utilise Oxford's high-tech expertise to drive economic growth, and a further £550 million of investment from housing providers.
More young people and businesses will be able to benefit from the opportunities that high-quality apprenticeships bring as 500 new apprenticeships are created as part of the landmark deal. To support the growing economy, the deal will also accelerate the development of 7,500 planned new homes for families across Oxfordshire.
Notes to editors
The first wave of City Deals, agreed with the 8 Core Cities (Birmingham, Bristol, Leeds, Liverpool, Manchester, Newcastle, Nottingham and Sheffield), were finalised in September 2012.
In October 2012, the government invited 20 cities and their wider areas to negotiate for the second wave of City Deals, which will see government devolve powers in exchange for responsibility for delivering growth locally.
Oxford is the 11th area in Wave Two to agree a City Deal.
The 20 areas included the next 14 largest cities and their wider areas and the next 6 with the highest population growth (between 2001 to 2010). The cities and their wider areas: Southampton and Portsmouth, Preston and Lancashire, Black Country, Hull and the Humber, Stoke and Staffordshire, Coventry and Warwickshire, Milton Keynes & South East Midlands, Greater Cambridge, Reading & Thames Valley Berkshire, Oxford and Oxfordshire, Tees Valley, Plymouth, Greater Norwich, Greater Ipswich, Leicester and Leicestershire, Bournemouth and Poole, Southend & South Essex, Swindon and Wiltshire, Greater Brighton and Sunderland.
The second wave of city deals is building on the first, giving more cities the tools to power their own growth. The second wave included an element of competition to increase the quality, level of ambition and innovation of emerging deals. Cities had a three month window from October 2012 to January 2013 to put forward City Deal expressions of interest, with only those that met the City Deal qualifying criteria being invited to negotiate a deal. This criteria required cities to show that their proposals:
addressed a clearly defined economic problem or opportunity
were based on evidence and insight;
were at the leading edge of the government's general economic strategy, looking to reduce regulation and bureaucracy; promote and strengthen local markets
support private sector growth
demonstrate a joined-up approach on local policy making
showed local areas being willing to accept risk alongside reward, including investing their own resources creatively.
On 18 February the government announced that all 20 Wave 2 cities had met the City Deal qualifying criteria and had been invited to negotiate a City Deal.
The content of the City Deals will reflect the different needs of cities. The cities have made proposals that are focused on the single biggest economic issue in their area. Some cities and their local areas are proposing City Deals focused on tools and powers to equip local people and businesses with the skills they need to take advantage of significant expansion in high value jobs in their areas; others on creating ecosystems to foster innovation and private sector growth; others to invest in infrastructure to unlock housing and jobs sites.
Published 30 January 2014