Christmas cocktail of drugs seized at Harwich
Heroin, cocaine, amphetamine and cannabis worth £4.1 million have been found hidden in a trailer full of Christmas decorations.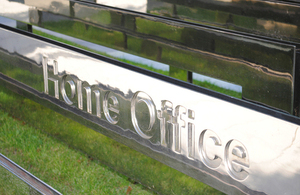 The drugs haul - one of the biggest seizures at Harwich this year - was found in a trailer that arrived at the port on a ferry from the Netherlands on Thursday (17 November) at 4:30am.
When officers searched the trailer they found a series of pallets containing Christmas decorations and artificial Christmas trees. The drugs had been concealed in some of the pallets underneath a top layer of festive decorations.
Cocktail of drugs 
In total, 235kg of amphetamine, 85kg of cannabis resin, 18kg of cocaine, 17kg of herbal cannabis and 15kg of heroin was recovered.
A 53 year-old Belgian man was arrested in connection with the seizure. He has now been released on bail pending further investigation. 
Drugs under Christmas tree
Malcolm Bragg, Assistant Director for the UK Border Agency's Criminal and Financial Investigation team, said:
 
'You would not expect to find a haul of illegal drugs underneath a Christmas tree, but our officers are trained to expect the unexpected. 
 
'Drug smugglers are ruthless criminals who will stoop to any level in their attempts to get their contraband cargo into the UK. Their clear hope in this particular enterprise was that by badging the load as seemingly innocent decorations the drugs would escape detection. Their actions were about as far removed from the spirit of Christmas as you can get.
 
'Our officers work round the clock and use the latest technology to stop illegal drugs from entering the country. Our activity at the borders protects our towns and cities from the harm that drugs cause to communities.'
More information
Anyone with information about drug smuggling can call the UK Border Agency hotline on 0800 59 5000 where anonymity can be assured or they can report a crime through the UK Border Agency website.
Christmas Cocktail of Drugs Seized at Harwich on Flickr
Published 23 November 2011