Christmas around the world with the Foreign Office
Foreign Office staff around the world have spent time helping local charities this Christmas, giving under-privileged children from Ecuador to Lagos fun and food this festive season.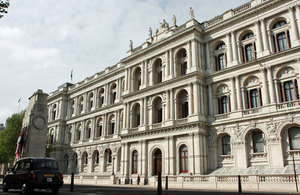 Foreign Office staff at Embassies and High Commissions around the world have spent time helping local charities this Christmas, giving under-privileged children from Ecuador to Lagos fun and food this festive season.
Staff have been rolling their sleeves up to cook for orphans in Cameroon; getting out to read to children in rural schools in Ecuador; finding presents for homeless and poor children in Brazil and working to improve the building of a children's home in Abuja, Nigeria.
In Harare, Zimbabwe, St Joseph's - a home for destitute boys - received a major boost from the British Embassy recently when its staff renovated and repainted all six of the centre's hostels. Embassy staff gave their time and donated bed linen, new curtains, kitchenware and some clothes to the 54 resident boys at the home. St Joseph's was delighted with the result and celebrated with the Embassy staff with a game of football and marimba songs.
In Luanda, Angola, the Ambassador, Richard Wildash has started a choir for local people and Embassy staff. The choir has been rehearsing since October and has formed a central point for people of the town and Embassy to come together build relationships. It has offered an outlet for people in Luanda whose lives can be incredibly hard and who have found a great deal to enjoy with the choir. They performed at a service in early December and Minister Bellingham listened to themduring his recent trip.
This hugely rewarding volunteering has helped FCO staff and communities come together in an important way. Meeting in more informal circumstances helps people from local areas understand more about the work of the Foreign Office and staff get to know the people they are living amongst and what their issues are.
Foreign Secretary William Hague said:
"I'm proud that many of our staff are volunteering this Christmas, from Lisbon to Harare, helping the less fortunate and showing British values in action. Public service is central to the ethos of the Foreign and Commonwealth Office and these projects will make a real difference to local communities."
Lagos, Nigeria
The British Deputy High Commission launched the Christmas Star Appeal in support of Eruobodo House. Staff chose a star off the Christmas tree showing the name of one young disabled homeless person living at Eruodobo House and bought that young person a present. 40 gifts were collected altogether. Some residents have been at Eruobodo House since they were babies; others have been transferred from other orphanages where they could no longer be given support because of their disability and age.
Cameroon
Deputy British High Commissioner Timothy Fisher and staff celebrated Christmas with the children of the Centre Communautaire de l'Enfance orphanage in Yaounde. The children got a feast made by staff and Santa delivered presents to the group who played games and danced to traditional music. The orphanage was also given practical gifts from FCO staff of rice and kitchen equipment.
Abuja Nigeria
The British High Commission entered into their sixth year of support for the Old Karu Children's Home. Partners of FCO staff visit the Home every week, taking along boxes of toys and encouraging the children to play. Staff have also given their time to improve conditions at the impoverished home by providing playground equipment, making the electricity supply safer, planting fruit trees and providing a flock of chickens. One Saturday in December the High Commission invites the children to a party where each orphan receives a present and gets to play games. Staff also hold table-top sales to raise money for sanitation projects for the Home.
In Quito, Ecudaor
The British Embassy and the Fundacion Ecuador Tierra Viva get together to staff the BISEE Book Bus across the Pichincha Province. The aim is to work with rural schools and schools with few resources in order to encourage children to read, listen to stories, draw and be creative. Staff get to visit the schools and spend time with the children - better understanding the local community and contributing to such a vital social service.
Brazil
'Santa Claus-Mail' is a hugely popular project where the Brazilian post office receives letters from underprivileged children asking for presents. Embassy and consulate volunteers get a letter each and send a present and a letter back to the child. For many, this is the only present they will get.
Lisbon, Portugal.
Staff will be donating funds to Ajuda de Berço - a charity which supports babies and children aged under three who are abandoned or at risk. Staff are also planning to visit the charity in December to volunteer.
Published 23 December 2010