Press release
Chris Rea tops the charts with drivers for their festive road trips
One in five people appropriately choose 'Driving Home for Christmas' as their favourite song for their festive car journeys, a new survey confirms today.
This news article was withdrawn on
This document is no longer current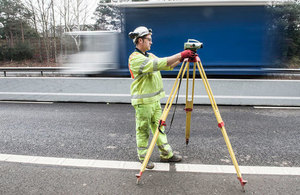 And with the same survey revealing that 1 in 12 people leave their Christmas shopping so late that they buy their presents in motorway service areas, Highways England is advising drivers not to take the same last-minute approach to their journeys this Christmas.
By 6am this morning (Wednesday), to help holiday travellers, 98% of roadworks will be removed from England's motorways and major A roads.
Melanie Clarke, Director of Customer Operations at Highways England, said:
While it's not surprising maybe that Chris Rea's song is a favourite to listen to in the car on festive trips, we don't want people to take the same approach to their journeys as many do with buying gifts - leaving it until the last minute.

To make those journeys home to loved ones this Christmas run as smoothly as possible, we're advising drivers to plan longer journeys ahead of time and check weather and travel conditions before setting out.

It's also worth packing an emergency winter kit in your boot, before making any seasonal journeys this Christmas. Although it's been unseasonably mild, make you're prepared for any kind of weather and that you've got de-icer, an ice-scraper, warm clothes, boots and a torch, in case your vehicle breaks down.
The survey showed Chris Rea's hit, with 20% of the vote, beat The Pogues' 'Fairytale of New York', which had 16% of the vote, putting them in second place. Slade's 'Merry Christmas Everybody' came in at third place with 7% of people citing it as their favourite song for festive journeys.
And when it came to food, chocolate topped the list for the most-travelled food this Christmas. Two out of five people who are visiting friends and family in other parts of the country said that they plan to take chocolate on their visit – while nearly 3 in 5 say they plan to take alcohol.
The survey revealed that 8% of drivers have bought a Christmas present from a motorway service area or petrol station, or expect to this year – with chocolate taking the lead as the most common purchase, followed by flowers and alcohol.
It also found that 90%of people will be heading out to visit friends or family at some point over Christmas and New Year – with nearly 60% visiting two or more sets of friends or family across the period.
To help those journeys go more smoothly, Highways England will be removing almost 400 miles of roadworks this festive season.
Melanie Clarke added:
We'll have lifted or completed 148 schemes by 6am on Wednesday 23 December - leaving 98% of our 9,534-mile network free of roadworks in time for the holiday - and making it easier for people to travel around freely at Christmas time to see friends and family.
To check real-time traffic information prior to a journey, drivers can use our website. Live traffic information is also available via Twitter (see the full list of channels.)
Winter driving advice is available on the Met Office website, and regular winter updates can be found on our Facebook page
General enquiries
Members of the public should contact the Highways England customer contact centre on 0300 123 5000.
Media enquiries
Journalists should contact the Highways England press office on 0844 693 1448 and use the menu to speak to the most appropriate press officer.
Published 23 December 2015