World news story
Chilean experts participate in summit to tackle corruption
Representatives from Chilean infrastructure, anti-corruption and procurement bodies will participate at regional summit held in Colombia.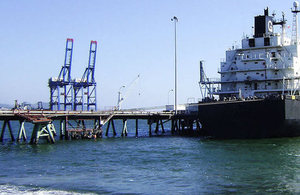 From 5 to 7 February, Colombia will host a high-level regional summit with the aim of promoting transparency and good governance in public infrastructure projects.
Programme participants will include senior managers from infrastructure, anti-corruption and public procurement bodies in Colombia, Peru, Mexico, Costa Rica, Panama and Chile. The aim is for attendees to share their experiences of tackling corruption, collusion and fraud in such projects; improve their understanding of international best practice guidelines from the OECD, Basel Institute on Governance, Inter-American Development Bank and others; and discuss how these techniques could be adapted and effectively implemented in the individual country contexts.
The event will also feature workshops led by Colombian experts including Luis Fernando Andrade, president of the National Infrastructure Agency (ANI) and Rafael Merchán, director of the Transparency Secretariat. These officials will primarily discuss Colombia's experience of launching the High Level Reporting Mechanism (HLRM); an initiative which aims to facilitate, and assign higher priority to, private sector complaints of bribery solicitation during the procurement process.
The Chilean experts will include Mr. Ramiro Mendoza, Comptroller General of the Republic of Chile; Mr. Guillermo Bruna, researcher from the National Economic Agency, and Mr. Carlos Zeppelin, President of the Public Infrastructure Committe, National Construction Chamber.
Further information
For more information about this event, contact Karl Zammit-Maempel, Head of Economic Affairs and Climate Change at the British Embassy Santiago.
For more information about the activities of the British Embassy in Santiago, follow us on:
Published 25 January 2014