Children in Africa get access to computers this Christmas
DFID's work with Digital Links on recycling old computers and digital education materials to help schools and hospitals in Africa.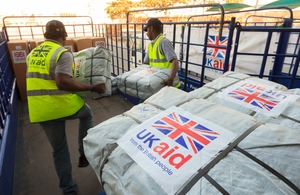 Rather than sending old computers to the landfill, the Department for International Development decided to donate 200 of their redundant servers to a UK charity which gives children living in the poorest parts of the world access to IT, and is urging you to do the same this Christmas.
Digital Links recycles everything, including damaged items, leaving nothing for landfills. The charity supports local recycling in Africa through its network of IT entrepreneurs and organisations. It has started a sustainable model for the safe dismantling and recycling of 3,500 obsolete computers in Kenya.
90% of students in Africa have never touched a computer and less than 10% of the African population has access to the internet despite IT being critical to promoting growth and social development in the world's poorest countries.
The computers provide a vital learning resource for thousands of children and students at schools, universities and community centres in Kenya, Tanzania, Senegal and Cameroon, where sustainable IT labs are set up by local partners. 
Andrew Mitchell, International Development Secretary, said:
"Throwing a computer into a landfill is a waste when it could be helping some of the world's poorest people.
"Education is one of the best routes out of poverty, yet millions of people have no access to basic learning we all take for granted.
"Computers will help provide a new generation of students and medical staff with the resources that can help break the cycle of poverty.
"Donating to Digital Links is not only an environmentally friendly way to dispose of computer equipment, but offers taxpayers the best value for money as none of the equipment is wasted."
Supported by the British Government, Digital Links has already supplied 65,000 computers and digital education materials used by over 1.5 million to improve health and education in Africa.
If you would like to donate your old computer to the developing world, visit http://www.digital-links.org/home or e-mail info@digital-links.org.
Published 27 December 2010