News story
Children and Young People's Health Outcomes Forum final event
Health minister Dr Dan Poulter and Chief Medical Officer Professor Dame Sally Davies attended a reception this week with members of the Children and Young People's Health Outcomes Forum, to thank them formally for  their work.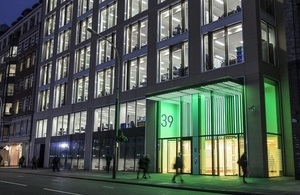 The independent forum was asked to help develop a new strategy for improving care for children and young people by the then Secretary of State Andrew Lansley. Its report was published during the summer and contained a number of recommendations about how to improve the way the health and care system should work for children and young people, these included:
a call for the key organisations in the new health system to listen to children and young people in the delivery of their work, and to set out how they have done so
new outcomes measures to test the effectiveness of the health and public health system's success in improving health outcomes for children and young people, such as 'time to diagnosis', children and young people's experiences of their care and the mental health of mothers during pregnancy and the first few years after delivery
making the revised NHS Constitution more overtly applicable to all children and young people.
A call for the NHS Commissioning Board to demonstrate leadership for children and young people through establishing a national clinical director post.
Speaking at the reception, Dr Dan Poulter praised the forums work. He said:
"I'm passionate about improving children and young people's health outcomes and your work is so important in achieving that aim. Not only can we save money in the long term by providing more effective healthcare but also, more importantly, we can transform individual lives and those of their families.

I want to say what a pleasure it is to meet so many experts in the field of children's healthcare. I know from meeting the chairs that they appreciated the contributions and support that they received from all forum members. Rest assured that I am absolutely committed to building on your hard work."
Professor Dame Sally added:
"I would also like to take this opportunity to thank forum members for the contribution that they have made. This is the last Forum event but I hope that you have confidence that the Forum's report will directly lead to changes being made that will improve health outcomes for children and young people."
The event marked the formal end of the forum's work. Its report is currently being used to inform the content of a new action plan for the improvement of children and young people's health, which is due to be published early in 2013.
Published 21 December 2012