World news story
Chief Scientific Adviser of the British government visits Chile
Sir Mark Walport is in the country to promote science as a driver for the economy.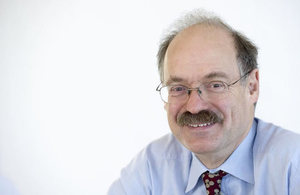 Sir Mark Walport, Government Chief Scientific Adviser and Head of Science and Engineering Profession, arrived in Chile on 21 January. He has been invited by the Chilean Senate to participate in the Futures Congress, in which national and international scientists, analysts and thinkers, analyse the most significant issues, challenges and achievements in the world of science.
At the Congress he will participate in the Panel "Educating in the 21st Century" along with Ennio Vivaldi, Rector of University of Chile, with the subtheme "Science as an Instrument for Change."
Sir Mark's programme includes a visit to ALMA Observatory in the north of Chile and to Punta Arenas in the extreme south. He will also visit Antarctica in a programme organised by the British Antarctic Survey.
About his visit to Chile, Sir Mark Walport said:
I am really pleased to be in Chile to talk about one of the biggest forces of change, which is science.Using science and innovation as an instrument for change has been at the heart of UK policy and our strategy for socio-economic development.
The work and visit of Sir Mark Walport is a firm demonstration of the UK's commitment to further strengthening ties with Chile through science and innovation collaboration and knowledge exchange in shared priority areas.
Further information
For more information about this visit, contact Marianne Becker, Head of Communications, British Embassy, Santiago.
For more information about the events and activities of the British Embassy in Santiago, follow us on:
Published 22 January 2016