Chief Inspector of Probation named
The preferred candidate to be the next Her Majesty's Chief Inspector of Probation for England and Wales has been announced today.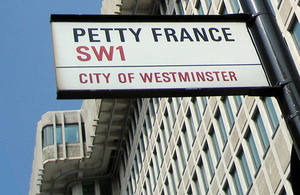 Diana Fulbrook OBE, currently Chief Executive of Wiltshire Probation Trust, has been selected after a rigorous and open selection process, which took into account the Commissioner for Public Appointments' Code of Practice as best practice.
 
The Justice Secretary has invited the Justice Committee to hold a pre-appointment hearing and will consider the Committee's views before deciding whether to proceed with the appointment.
Notes to editors
HM Chief Inspector of Probation is a statutory appointment made by the Justice Secretary. The Chief Inspector's main statutory remit is to carry out inspections and report to the Justice Secretary on probation provision in England and Wales.  HMCI Probation is responsible for inspections of youth offending work through the inspection of Youth Offending Teams.
Diana Fulbrook has been Chief Executive of Wiltshire Probation Trust (formerly Wiltshire Probation Area) since April 2001.  She was Assistant Chief Probation Officer in Warwickshire from 1992 to 2001.  She was a Senior Probation Officer from 1989-1992 and a Probation Officer from 1971-1992 in Hereford and Worcester (now West Mercia).
Pre-appointment scrutiny hearings enable select committees to take evidence from candidates for certain key public appointments before they are appointed. Hearings are in public and involve the select committee publishing a report setting out their views on the candidate's suitability for the post. Pre-appointment hearings are non-binding but ministers will consider the committee's views before deciding whether to proceed with the appointment.
The Inspectorate of Probation was established in 1936. The Inspectorate and the office of HM Chief Inspector were first put on a statutory basis by the Criminal Justice Act 1991.
Published 27 April 2011