Chief Executive of the British Red Cross marks International Red Cross Day
Sir Nicholas Young has written a guest article for the Foreign Office for International Red Cross Day on 8 May 2011.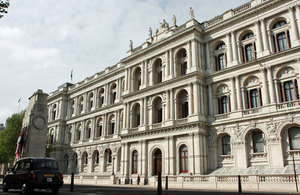 Each year, International Red Cross day provides us with an opportunity to look back and celebrate the achievements of an organisation of which I am lucky enough to be a part.
At more than 150 years old, it would be easy to assume that the Red Cross movement might struggle to remain as relevant today as it was a century and a half ago.
But, as the opening months of 2011 have proved, our role has never been more vital.
Natural disasters and conflict have visited immeasurable tragedy around the world, highlighting the continued importance of the Red Cross' role delivering neutral, impartial and independent humanitarian aid to those in need through our international network which stretches across the globe.
Our approach of shared principles, shared responsibility and local leadership has been evident around the world, and nowhere more so than in the impressive response of the Libyan, Tunisia and Egyptian national Red Crescent Societies as they have worked on the frontline to meet humanitarian needs in their countries.
In Libya particularly, civilians are facing huge dangers. In many towns and cities where intense fighting has taken place, people with no involvement in the fighting are being exposed to the dangers of unexploded or abandoned weapons.
Working closely with the Libyan Red Crescent, the International Committee of the Red Cross (ICRC) has begun clearing areas to make them safe for civilians and is educating people about the dangers posed by unexploded weapons.
Tens of thousands of people across the areas affected by fighting have had to flee their homes and seek refuge with host families or in camps.
The ICRC has distributed food parcels, baby food, hygiene kits, kitchen sets and blankets to tens of thousands of people forced from their homes, most of whom are being accommodated by host communities or staying in public buildings along the coast in the eastern part of the country.
And in neighbouring Egypt and Tunisia, the Red Cross is giving support to tens of thousands of people who have fled Libya to escape the fighting. It is providing sanitation to help prevent the outbreak of disease, vital items such as blankets and jerry cans, and access to phone calls that enable people to re-establish contact with their loved ones.
The Red Cross has only been able to do much of this work - to access areas where other agencies cannot - because of our long standing principles of neutrality, impartiality and independence.
It is vital that respect for our humanitarian mission continues.
Those involved in the violence must take all possible precautions to spare civilian lives, and humanitarian actors must be allowed to safely access those in need.
Published 8 May 2011