World news story
Chevening Success Story - Mary Bounthalath
She is a MSc student on innovation management at the Institute of Management Studies, Goldsmiths College, University of London, UK.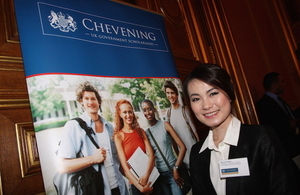 1. Tell us a bit about yourself: where you are from, your studies, work etc:
Before taking up my studies in the UK, I have worked for my family business for years, and have recently been promoted to the position of Deputy Director. I noticed many challenges that needed tackling: organisational restructuring and management changes were required to bring the company to the next level. This made me realise that it was important to acquire new insights and knowledge and to shape the innovation and leadership in order to effectively manage the company. That was when I decided to apply for the Chevening Scholarship programme.
2. How did you hear about the Chevening scholarship, and what made you interested in applying?
In fact, I was planning to do my master in UK. I already applied for university and got an offer. At that time, the British embassy was about to reopen in Vientiane. Through my friend, I met one of British embassy staffs named Katie who introduced me to Chevening scholarship. I was then not hesitating to apply; I thought it was worth applying for a scholarship even if I would not be selected. Finally, the effort was paid off and the reward was indeed enormous.
3. Why did you particularly want to study in the UK?
There are plenty of reasons: One of reasons is the UK has a worldwide reputation for academic excellence with top global schools. Especially, the city of London, UK is not only a global leading educational centre, it is also a global leading business, financial and cultural centres. Beside, it is also a fantastic place to live with a rich history and vibrant culture. By living in the UK, you will have the opportunity to experience new culture and meet people from different backgrounds who hold different views and cherish the cultural diversity. Last but not least, most courses in the UK are generally shorter than many other countries; my master is one-year programme so the duration of study just perfectly fits my needs.
4. How do you think it will help you in your future career?
I wish to make my company a forefront business in Laos as well as be recognised internationally. Chevening will give me once-in-a-lifetime opportunity to develop myself personally and professionally in terms of academics, leadership, and perspectives. I will be able to acquire insight to the global business environment including the UK, and apply those business practices to the local economy in Laos. Due to the ever-growing globalisation, the need to adapt to an international practice of doing business is almost a requirement to survive and succeed and therefore I am seeking to develop that knowledge for the benefit of supporting the local economy in Laos and create positive impacts publicly. Chevening is the ideal scholarship that will prepare myself for the change, and will also be the platform and place where I can connect to young global leaders from all walks of life. I am hoping to contribute and be a part of the next generation in the upcoming years to move Lao economic forward using my qualifications.
5. How do you think it will help UK-Lao relations?
Certainly, this will build lasting positive relationships between UK and Lao PDR. Laos' scholars will gain better understandings about British culture, business insight and political view. Personally, I believe that there will be an increase in trade, investment, and business opportunity as well as more engagement with civil society in both countries.
6. What do you hope to learn in the UK?
I am applying for MSc programme in Management of Innovation at the Institute of Management Studies, Goldsmiths College, University of London. The programme mixes theory and practice, which allows me to obtain a professional qualification in project management, to enhance leadership development and to keep up with innovation approaches and challenges which are key components for success in today's business world. I can immediately apply these conceptual and theoretical implications of innovation to practical applications of my existing business. Particularly, the Innovation Case Studies (ICS) is a unique opportunity for students to come face-to-face with some of the world's leading innovators as they discuss innovation challenges and opportunities they have faced in their professional careers. The reason that I chose Goldsmiths is that the programme meets my academic requirements and professional aspirations. As I will be living in London, UK's melting pot city. I hope to get exposure to British and European culture, history, business, innovation and political view. This will also expand my horizon and shape my perspective.
7. What advice would you give to Laotians thinking of applying for Chevening?
Research, research and research. Prospective applicant should do extensive researches about programme and university that they wish to attend in order to truly understand how their chosen programme will help their future career and professional development. Study carefully about requirement of Chevening scholarship namely English requirement, year of working experiences in order to ensure that you fulfil the general requirement before starting the application. Applicants should apply to Chevening scholarship and to a preferred university at the same time to ensure that an unconditional offer from university is made before/when they attend the interview. This will increase chances of being selected. Be confident and be yourself on the interview day :)
Once again, I would like to extend my sincerest thanks and appreciation to the British Embassy in Vientiane and the Foreign & Commonwealth Office for having placed trust in me by giving me a once-in-a-life time opportunity to pursue my study in UK. This truly inspires me to help other and give back to the community.
For more impressions of Mary's experiences in the UK check out her Chevening photo album on the UK in Laos Facebook site.
Document information
Published: 9 October 2015