World news story
Chevening Success Stories - Ms. Phetmany Xaychaleune
She is an MSc student on Inter cultural Communication for Business and the Professions at the University of Warwick, UK.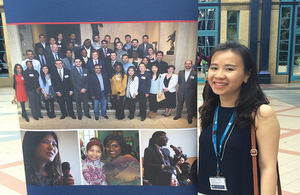 1. Tell us a bit about yourself: where you are from, your studies, work etc:
I am from Vientiane, Lao PDR. I am currently an MSc student on Intercultural Communication for Business and the Professions at the University of Warwick, UK. Prior to study at Warwick, I was working as a Public Information Analyst at the United Nations Development Programme (UNDP) in Laos.
2. How did you hear about the Chevening scholarship, and what made you interested in applying?
I first heard about the Chevening scholarship from a friend of mine and saw an advertisement in the Vientiane Times, a local English newspaper. I then learned detailed information from the Chevening website. I was particularly interested in applying for Chevening because it is one of the most prestigious global scholarship schemes that offer great opportunities for individuals who would like to further their studies, specifically, to pursue a master's degree in the UK.
3. Why did you particularly want to study in the UK?
One of the main reasons I wanted to study in the UK because firstly, UK universities have good reputations and the degrees are recognised worldwide. Secondly, it takes a shorter time to complete a master's degree here in the UK, which means I can earn the degree sooner to enhance my career prospects. Last but not least, I can broaden my perspectives and learn to appreciate cultural differences by living and studying in such a diverse country.
4. How do you think it will help you in your future career?
Being educated in an English native country definitely helps improve my language skills, which in turns will reinforce my career opportunities. On top of that, Chevening offers great opportunities for scholars to be part of a massive global network. This will enable me to expand both my personal and professional networks that would be advantageous for my future career in one way or another.
5. How do you think it will help UK-Lao relations?
It will help strengthen the UK-Lao relations in the long run not only politically but also economically. Moreover, individuals from both countries will have more opportunities to share and exchange cultural experiences.
6. What do you hope to learn in the UK?
Apart from pursuing my current master programme, I would like to take an opportunity while I am in the UK to do a short-term internship and spend times outside my study schedules to explore more about UK cultures.
7. What advice would you give to Laotians thinking of applying for Chevening?
One main piece of advice would be: Go for it! You need to be enthusiastic and well prepared in terms of language proficiency and do proper research of the programmes and universities that you wish to study in. Apart from that, you ought to have a clear plan in mind about your future career and demonstrate that you are a future leader! So, apply now and good luck for your application! – Sok Dee Der! 
Document information
Published: 28 August 2015