World news story
Chevening Scolarships in Uruguay
Masters in UK with all expenses paid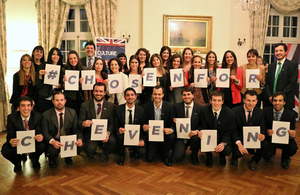 29 Uruguayans will be travelling shortly to the United Kingdom to pursue Masters degrees through Chevening scholarships. These scholarships are funded by the British government and 11 of them have been co-funded by the Agencia Nacional de Investigación e Innovación in Uruguay, ANII.
In the past two years 59 Uruguayan professionals obtained Chevening scholarships, a record in Uruguay which puts us in the same level than others countries with larger population, on a per capita basis.
At the farewell offered at his residence, the British Ambassador Ben Lyster-Binns said that Cheveners will be "taking advantage of this great opportunity to continue their studies at world class universities before returning to Uruguay to share their experience and contribute to the benefit of the country". Uruguay has more than 100 former Chevening scholars belonging to the Graduates from British Universities Association.
The Chevening scholarship programme is directed towards outstanding scholars with potential to rise to positions of leadership and influence. Applicants can choose the course they prefer at any university. Each scholarship will provide full payment of academic tuition fees, a monthly stipend for living expenses sufficient for a single student, and a return airfare.
Applications for the scholarships must be made on-line before 8th November 2016.
The British Embassy will offer two informative talks where potential applicants can find out more: -Saturday 10 September, 14:00 hours, Facultad de Humanidades y Ciencias de la Educación, Universidad de la República - Saturday, September 17, 17:00 hours, Sala de Conferencias ARU, Expo Prado
For more information go to Chevening Uruguay or learn more at the Embassy Facebook page.
These are the 29 Chevening scholars 2016 – 2017 :
• Arretche, Maria Elena - International Marketing with Tourism and Events
• Brener Nicolás - Public Management and Governance
• Deagosto, Emilio - Renewable Energy Enterprise and Management (REEM)
• Donagaray, Florencia - Media Production (Children's TV Production)
• Duarte, Sofia - Supply Chain and Logistics Management
• Fernández, Maria Elena - Sustainable Design
• Goldenberg, Federico - Renewable Energy Enterprise and Management (REEM)
• Gottlieb, Camila - Learning, Technology and Education
• Guidali, Florencia - Pharmaceutical Technology
• Igoa, Catalina - Energy Engineering with Environmental Management
• Iturralde, Agustin - Political Economy of Late Development
• Kaiser, Daniela - Criminological Research
• Lindner , Silvina - International Political Economy
• Manzi, Antonio - Public Policy and Management
• Mascari, Sofia - International Relations
• Mombrú, Maia - Nanoscience and Functional Nanomaterials
• Olaso, Maria Eugenia - Energy Trade and Finance
• Peñagaricano, Matilde - Public Policy and Management
• Pérez, Andrea - Service Design Innovation
• Pose, Nicolás - International Political Economy
• Rezk, Stephanie - Biodevices
• Rocca, Jose Ignacio - Human Computer Interaction
• Secco, Jose Leandro - LLM in Law
• Sureda, Micaela - Regenerative Medicine (Science and Application)
• Tarallo, Diego - Media and International Development
• Theoduloz, Santiago - LLM in Law
• Tucci, Martin - Energy Trade and Finance
• Vidal, Maria Elena - Climate Change and Development
• Zagarzazú, Delfina - MBA in One Planet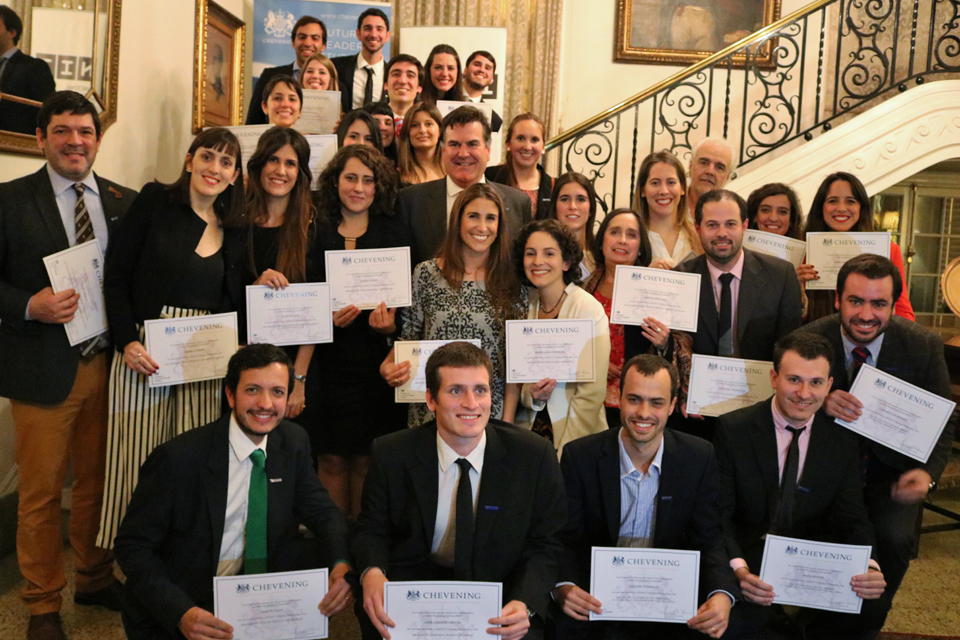 Document information
Published: 6 September 2016