World news story
Chevening scholarships in Macedonia - 30 years of success
British Embassy in Macedonia organises an event to mark 30th anniversary of Chevening scholarships.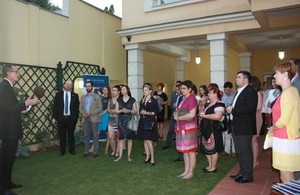 The anniversary event gathered Chevening alumni from the past 30 years from Macedonia who have spent time in the British educational system in various areas, from security and international relations, to business, culture and arts.
Ambassador Charles Garrett reflected on the meaning of the Chevening scholarship scheme for the UK and its ties with over 118 countries in the world where from scholars come to study in the UK. He said:
Chevening stands for top branding globally. By gathering people with the potential to lead and influence positive changes in their societies, Chevening has developed a network of alumni of 42,000 top leaders and influencers across politics, business, culture, media, civil society and other fields. We are happy to have been able to invest in Macedonia over the past 30 years, and to have such an impressive group of Macedonian alumni. As EU member states are not eligible for Chevening, I hope one day to see the closure of the Macedonia programme. Until then I look forward to continuing to welcome new Macedonian students to the scheme.
The experience of being a Chevening scholar was shared by Judge Natasha Gaber who was among the scholars in the early 1990s to study in the UK. Guests also heard from Ljupka Mitrinovska, who is returning from the UK in 2014. Both expressed satisfaction from the education they gained in the UK, and Judge Gaber underlined how this experience helps in future professional development.
Chevening Scholarships are the UK government's global scholarship programme, funded by the Foreign and Commonwealth Office (FCO) and partner organisations. The programme makes awards to outstanding scholars with leadership potential from around the world to study postgraduate courses at universities in the UK. The Chevening programme was established in 1983 and has developed into a prestigious international scheme. Chevening Scholars come from 118 countries worldwide (excluding the USA and the EU), and this year the Scholarships will support more than 600 individuals. There are over 42,000 Chevening alumni around the world who together comprise an influential and highly regarded global network.
Find out more about Chevening scholarships.
Connect with us on Facebook or follow us @ukinamcedonia.
Connect with the British Ambassador at @BritAmbCGarrett and Facebook.
Published 2 July 2014