World news story
Chevening Scholarships for Moldova.
The British Ambassador met this year's Chevening scholars and announced the opening of 2014 - 2015 application process.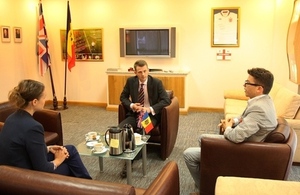 The British Ambassador to the Republic of Moldova, Mr Phil Batson, met the Moldovan Chevening scholars who will study Master's degrees at leading UK universities. Ion Efros and Cristina Lisii are the successful candidates of the 2013-14 Chevening scholarship scheme that aims to attract talented professionals who are potential future leaders. Ion will study Global Energy Management at the University of Strathclyde while Cristina will do Governance and Public Policy at the University of Sheffield.
The Ambassador congratulated the scholars on their successful path through the selection process, and presented them the award certificates expressing hopes that the skills and knowledge acquired in UK universities, will be brought back to make Moldova a more stable and prosperous country in the future, while the graduates will became valuable assets to ever growing network of Chevening alumni in Moldova.
Phil Batson also announced that Applications for 2014 – 2015 Chevening Scholarships in Moldova are now open and will be closed on 1 November 2013.
For more information on how to apply for a Chevening Scholarship, please visit our Chevening in Moldova page.
Published 16 September 2013