Chevening Scholarships: Approaching the Application Deadline
A blog by British Embassy Harare's Head of Chancery John Culley on promoting Chevening in Zimbabwe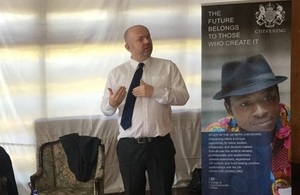 This week I have had the very great pleasure of attending workshops on the premier UK Scholarship scheme, Chevening, in Gweru, Bulawayo and Harare. I was accompanied by Mimi Tambi from the UK Chevening Secretariat and Charles Mangongera, our Political Officer and a former Chevening Scholar. I have met a huge range of potential scholars and have been really struck by the quality of the candidates. In 2015 we sent 20 Scholars from Zimbabwe to the UK and I hope we will send a similar number next year.
Our offer to you is generous, a fully funded scholarship to take any one year Masters Degree in the UK (some restrictions apply to MBAs). In return we are interested in candidates with a genuine commitment to return to Zimbabwe and help with this countries development. And we are interested in potential leaders in whatever field you wish to specialise, whether it is the law, medicine, business or politics.
If you have not yet started your application, time is running out, you have until midday on 3rd November. There is a lot of information on the Chevening website.
I wanted to answer two questions that came up in all the workshops:
Firstly about Work Experience.
We require two years work experience. That can be tough in a difficult economic climate, but we accept any two years experience, whether paid or unpaid, so an internship for example or work done alongside your undergraduate studies can also qualify.
Secondly which subjects qualify?
The short answer is any. With a large group of candidates likely to come from Zimbabwe we are open to any discipline. This year we sent candidates who wished to study Public Health, Tropical Medicine, Actuarial Science, Development Studies, Media Management, Urban Planning, two different types of Engineering, Business Management, Business Analytics, Agriculture, Finance, Economics, Global Innovation and International Law. This year I expect the range to be similar, but with a completely different of set of highly motivated and talented students. So what are you waiting for?
Published 23 October 2015