World news story
Chevening Scholarship Programme is open for applications
Applications for Chevening, the UK Government's scholarship programme, open today in Vietnam and across the world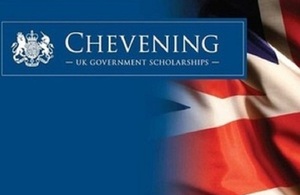 The UK Government's Chevening Scholarship Programme for academic year 2015-16 is now open for applications on-line until 15 November 2014.
The full Chevening scholarship covers the cost of tuition fees up to £12,000, accommodation, a monthly living allowance, return air ticket, and the cost of a UK visa.
The British Deputy Head of Mission Ms Lesley Craig says the UK is proud of its Chevening Scholarship. She added:
I am pleased that a new round of Chevening Scholarships is open for applications. The Chevening Scholarship Programme is a prestigious scheme which has helped enhance the warm relationship between the UK and Vietnam over the last 20 years. It is wonderful that we have so many Chevening alumni, almost three hundred now, across Vietnamese society, including its leadership. I hope that this year we will receive some really good applications from a diverse range of Vietnamese people.
The Scholarships are awarded to outstanding scholars with leadership potential. Over the past twenty years, many Chevening alumni have gone on to occupy positions of influence and leadership in different parts of Vietnamese society.
The British Embassy is committed to a policy of equality of opportunity and encourages applications for Chevening scholarships from candidates who reflect the full diversity of Vietnamese society. The Embassy welcomes applications from all provinces of Vietnam, including candidates from ethnic minority groups and people with disabilities. We will offer support for individuals with specific needs through the application process and, if successful, beyond.
Visit our website for detailed information on prioritised areas and the eligibility.
Published 1 August 2014